Announcing Brian's photography for sale as fine art prints for the first time
17 June 2023 | Admin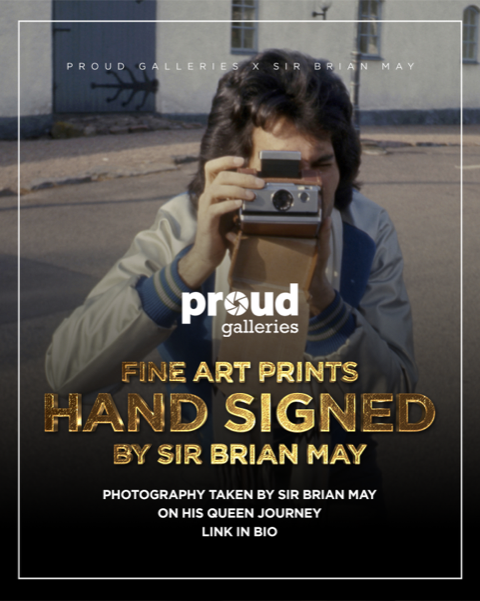 Brian May says "It's been giving me great pleasure to share a chunk of my life's work - combining some of the magic of Queen's Glory Days with the alchemy of stereoscopy 3-D - on view every week day at London's Proud Galleries. Some of the 3-D images had been hiding in unmounted 35 mm film - rediscovered so many years later, and so evocative of those early days of Queen. The unique 'virtual reality' of these in-depth views brings those wonderful, colourful early musical moments so vividly back to life. Out of our successful exhibition (and London's first new stereoscopic shop for 170 years!) came the idea of offering a limited edition of high quality enlargement prints of some of those early images."
Proud Galleries is pleased to announce a worldwide first in music photography with the introduction of a collection of work shot by the legendary stereo photographer Sir Brian May.
We are offering a rare opportunity for collectors to become a part of Queen's history by acquiring a fine art print from Brian's personally curated selection of candid behind-the-scenes, on-stage and portraiture images, which depict both the guitarist himself and lead singer Freddie Mercury, in an intriguing new light.
Unknown to many, Brian carried a stereo camera throughout Queen's epic journey. Since the inception of the band (which he co-founded in the 1970's) until the present day, Brian captured a whole history of intimate, playful and iconic images shot from the inside.
In addition, Proud Galleries, in collaboration with the London Stereoscopic Company, now offer you the chance to take home a fine art print of an iconic Victorian image from the Brian May Archive of Stereoscopy. This collection features an array of captivating Victorian photography, which communicates the excitement and beauty of stereoscopy during the 1800s.
Photography has been a life-long passion for Brian since his youth, and one of his greatest memories is helping his father develop and print black and white photographs in his spare bedroom. He was an avid student who went on to become an evangelist of stereo photography, and he continues to promote the visual magic of 3-D photography within the modern cultural narrative and as Founder of the London Stereoscopic Company in the 21st Century.
All Queen and Victorian fine art prints are selected and hand-signed by Sir Brian May, and are accompanied by a gallery certificate of authenticity, a Queen stereo card pack and a Lite Owl Viewer, designed by Brian.​
Fine art prints available at Proud Galleries, 32 John Adam St, London WC2N 6BP
Enquiries / photography@proud.co.uk​
http://www.proudgalleries.com​