24 September 2023 | Admin
Brian May says,
"Today is the day - the long awaited day - when the sample of a piece of material From Bennu - the asteroid most likely to hit the Earth in the future, is recovered to Earth. This box when it is opened of material from the surface of Bennu can tell us untold secret of the origins of the universe, the origins or our planet and the origins of life itself. What an incredibly exciting day. Tune into Nasa TV. Go to the OSIRIS-REx website. Read my new book for the full story - Bennu 3-D - written with leader of the mission, Dante Lauretta. And enjoy this wonderful forward step in our knowledge of the universe."
What many do not know, is that Brian - along with his colleague, Claudia Manzoni - played a crucial role in the OSIRIS-REx mission, creating stereoscopic images from the O-REx data that enabled leader, Professor Dante Lauretta, and his team to locate a safe landing site for sample collection.
To celebrate, Dante and Brian further collaborated to publish - BENNU 3-D: ANATOMY OF AN ASTEROID, the only book to explore the full story of the asteroid from formation to this current mission and with stereoscopic 3-D imagery that brought the mission to success. The book comes with a 3-D viewer designed by Brian May to bring these images to life.
Professor Dante Lauretta, leader of the OSIRIS-REx mission, and author of Bennu 3-D: Anatomy of an Asteroid says –
"The delivery of samples from asteroid Bennu by the OSIRIS-REx spacecraft is the culmination of almost two decades of intense effort. I am thrilled to share this adventure with the world as we enter the final stage of the mission – sample analysis."
23 September 2023 | Admin
Brian on the 6pm news, channel 4 on 24th September - with his new book - sharing his thoughts on the phenomenal landing of the first ever sample of asteroid BENNU.....and discussing his important role in the OSIRIS-REx mission.

Click on this link to watch the interview -
https://www.channel4.com/news/nasa-probe-returns-to-earth-from-most-dangerous-asteroid

Brian and Professor Dante Lauretta's BENNU 3-D: ANATOMY OF AN ASTEROID - the full story behind the mission and the history of the asteroid - is out now!
https://shop.londonstereo.com/astronomy-books.html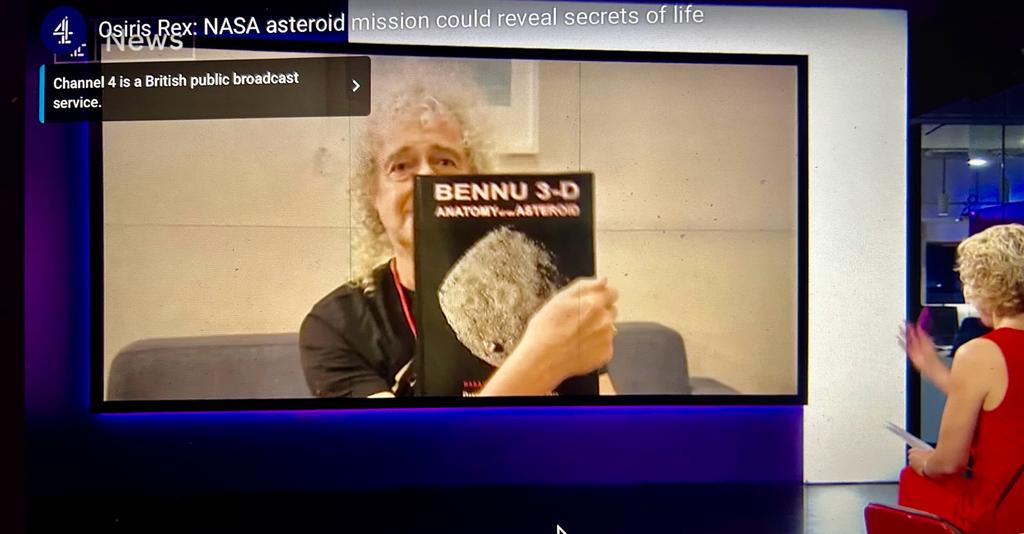 11 August 2023 | Admin
The London Stereoscopic Company has teamed up with Space.com to offer you the chance to win a copy Brian May's latest publication - Bennu 3-D - accompanied by a special bookplate signed by Brian and co-author / leader of NASA's OSIRIS-REx mission, Dante Lauretta.
Your challenge is to get creative this weekend and photograph objects in the solar system.
​To take part click on this link
https://www.space.com/brian-may-launches-astrophotography-competition
Bennu 3-D is out now and part of the LSC's fascinating collection of astronomy books and products
https://shop.londonstereo.com/astronomy-books.html
19 July 2023 | Admin
On Thursday 27 July, Bennu 3-D, is officially published and you are invited inside what will be a thrilling launch event, hosted by The Natural History Museum.
You will be taken on a 3-D journey - with authors Sir Brian May, Professor Dante Lauretta and Sara Russell from the Natural History Museum - exploring the history of the world's most hazardous asteroid.

Book here https://www.nhm.ac.uk/events/dig-deeper-talks/dig-deeper-analysing-asteroids.html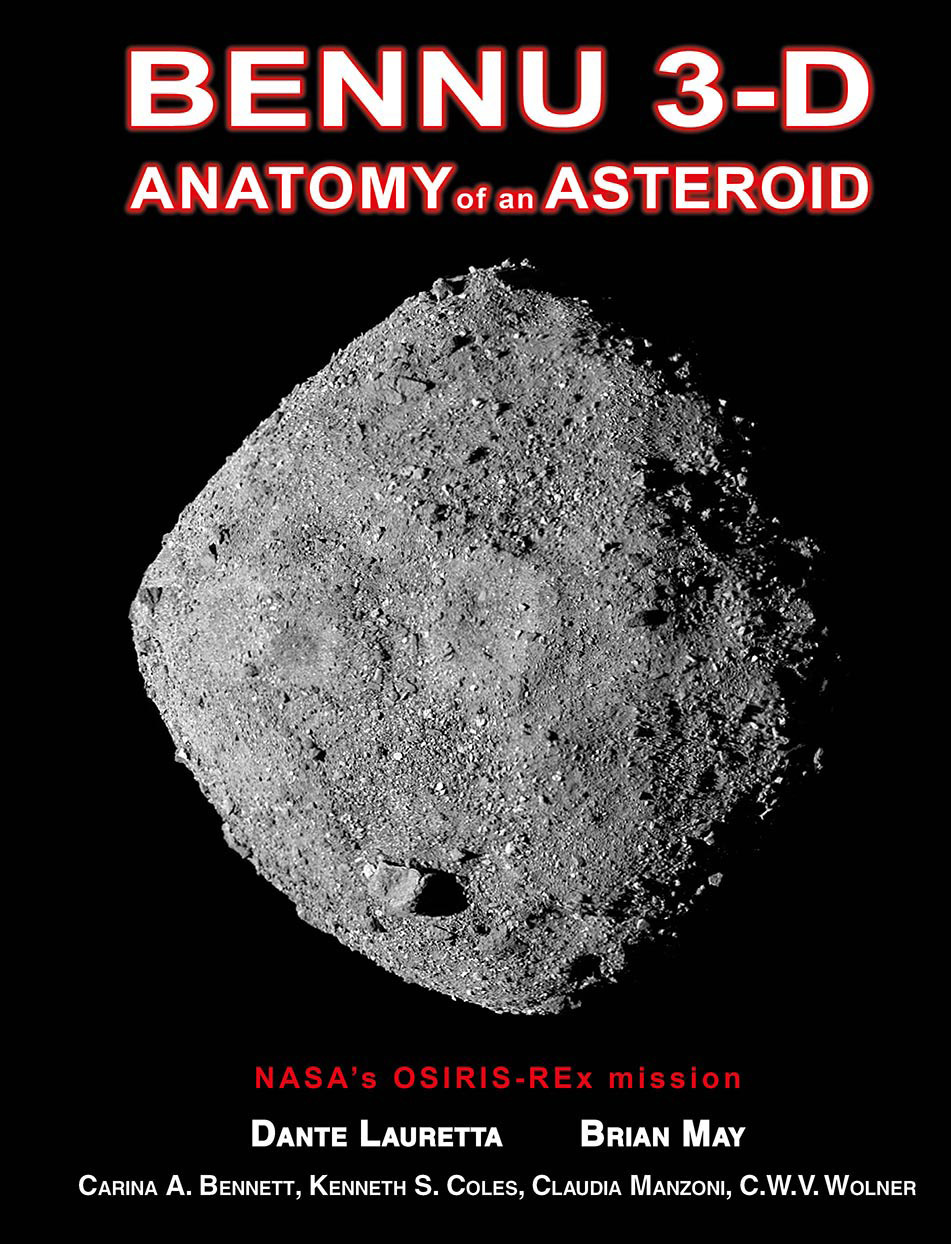 17 June 2023 | Admin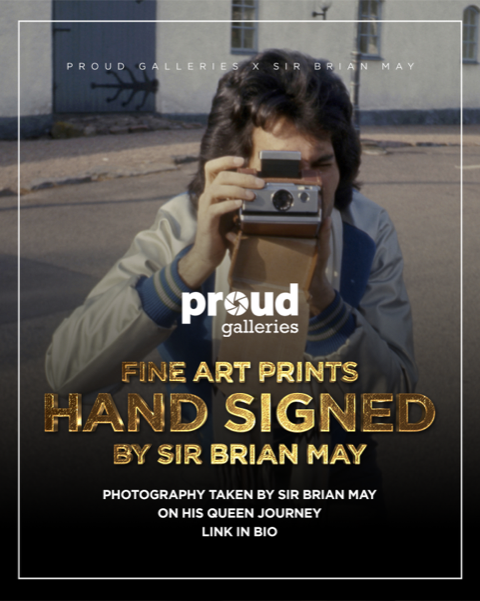 Brian May says "It's been giving me great pleasure to share a chunk of my life's work - combining some of the magic of Queen's Glory Days with the alchemy of stereoscopy 3-D - on view every week day at London's Proud Galleries. Some of the 3-D images had been hiding in unmounted 35 mm film - rediscovered so many years later, and so evocative of those early days of Queen. The unique 'virtual reality' of these in-depth views brings those wonderful, colourful early musical moments so vividly back to life. Out of our successful exhibition (and London's first new stereoscopic shop for 170 years!) came the idea of offering a limited edition of high quality enlargement prints of some of those early images."
Proud Galleries is pleased to announce a worldwide first in music photography with the introduction of a collection of work shot by the legendary stereo photographer Sir Brian May.
We are offering a rare opportunity for collectors to become a part of Queen's history by acquiring a fine art print from Brian's personally curated selection of candid behind-the-scenes, on-stage and portraiture images, which depict both the guitarist himself and lead singer Freddie Mercury, in an intriguing new light.
Unknown to many, Brian carried a stereo camera throughout Queen's epic journey. Since the inception of the band (which he co-founded in the 1970's) until the present day, Brian captured a whole history of intimate, playful and iconic images shot from the inside.
In addition, Proud Galleries, in collaboration with the London Stereoscopic Company, now offer you the chance to take home a fine art print of an iconic Victorian image from the Brian May Archive of Stereoscopy. This collection features an array of captivating Victorian photography, which communicates the excitement and beauty of stereoscopy during the 1800s.
Photography has been a life-long passion for Brian since his youth, and one of his greatest memories is helping his father develop and print black and white photographs in his spare bedroom. He was an avid student who went on to become an evangelist of stereo photography, and he continues to promote the visual magic of 3-D photography within the modern cultural narrative and as Founder of the London Stereoscopic Company in the 21st Century.
All Queen and Victorian fine art prints are selected and hand-signed by Sir Brian May, and are accompanied by a gallery certificate of authenticity, a Queen stereo card pack and a Lite Owl Viewer, designed by Brian.​
Fine art prints available at Proud Galleries, 32 John Adam St, London WC2N 6BP
Enquiries / photography@proud.co.uk​
http://www.proudgalleries.com​
1 June 2023 | Admin
The Queen guitarist and songwriter, singer and arranger was awarded a Knighthood in the 2023 New Year Honours list for his services to music and charity. In 2009 he set up his animal welfare charity, The Save Me Trust, to protect and care for wildlife and in particular the species native to Great Britain.
However, he is equally well-known and highly regarded in the stereoscopic community and his Brian May Archive of Stereoscopy, also a charity, houses the world's largest collection of stereoscopic images. He is also an accomplished astrophysicist and has worked with NASA to produce 3-D images of asteroids and planets.
The Stereoscopic Society is the world's oldest stereoscopic club, being founded in 1893, so this year marks its 130th anniversary. Sir Brian's passion for stereoscopy dates back to his childhood and his association with the Society goes back many years, to the 1970s, when his neighbour, who was the Society's president at the time, invited him to one of the society's London meetings.
What better way of acknowledging this long association, and the work he does to raise the profile of all things 3-D, than to invite him to become The Stereoscopic Society's first-ever patron? Welcome back Sir Brian!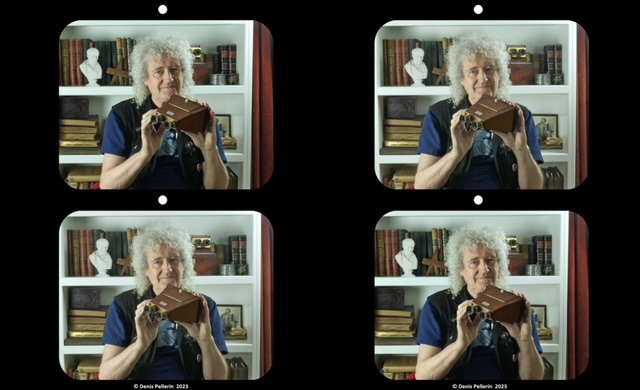 20 April 2023 | Admin
Following on from the success of Stereoscopy Is Good For You
PROUD GALLERIES IN COLLABORATION WITH BRIAN MAY AND THE LONDON STEREOSCOPIC COMPANY PRESENT
QUEEN WILL ROCK YOU IN 3-D
A new exhibition capturing the history of Queen through Brian May's own stereoscopic (3-D) camera lenses.
From an early age Brian travelled with a stereo (3-D) camera in hand, so on Queen tours and during recordings he was able to capture rare behind-the-scenes moments of one of the world's greatest rock bands. Decades later these are now being shared for the first time to the public in an extensive exhibition.
Some of the pictures were taken on stage; others behind the scenes, including informal shots taken on the road and during leisure time, giving close-up glimpses of the band as never seen before. Freddie, an enigmatic character, fiercely protective of his privacy, usually shied away from being photographed off stage. However here we see how he interacted playfully and unselfconsciously with Brian's camera, and we catch rare glimpses of this consummate showman as viewed by his band mate and close friend.
The exhibition also includes stereoscopic photos taken by fans of modern day Queen with the fantastic, flamboyant Adam Lambert as the frontman and captures the wonders of the hit musical We Will Rock You.
The magic of Queen Will Rock You in 3-D is that the images will be brought to life in three dimension with the ingenious OWL Stereoscopic Viewer designed by Brian himself.
THE EXHIBITION: Queen Will Rock You In 3-D, curated by Proud Galleries and Brian May, runs from 2 June to 23 September 2023, entry £5. Book via www.proudgalleries.com / drop by and purchase a ticket on the door.
Or WHY NOT MAKE IT A QUEEN DAY - visit the exhibition before you hit We Will Rock You, a five minute walk down the road. Show
Proud your We Will Rock You musical ticket and receive a 50% discount off the entry fee to Queen Will Rock You In 3-D!
THE BOOK: Queen in 3-D, by Brian May, published by The London Stereoscopic Company is available to buy from the the merchandise stands at We Will Rock You, the LSC store at Proud Galleries or https://shop.londonstereo.com
About We Will Rock You
It has been 21 years since 'We Will Rock You' premiered at London's Dominion Theatre in 2002, where it was seen by six million people over 4600 performances during an astonishing 12-year run, becoming one of the most successful musicals in West End history and the longest runner at the Dominion by a margin of nine years. It also found unprecedented popularity around the world, playing to a global audience of 20 million across 28 countries. Featuring 24 of Queen's greatest hits and a hilarious script by Ben Elton, We Will Rock You succeeds in its promise of delivering a rocking good night revisiting one of the greatest songbooks in history. Now Queen and Ben Elton's sensational smash hit show 'returns to London for an historic, strictly limited 12-week residency at the London Coliseum from 2 June – 27 August.
Brian May said: "I'm thrilled we finally have this opportunity to put We Will Rock You back on stage in London, where it was born. It will be a completely new production that will burst on to the prestigious London Coliseum stage. We WILL Rock You – again!!"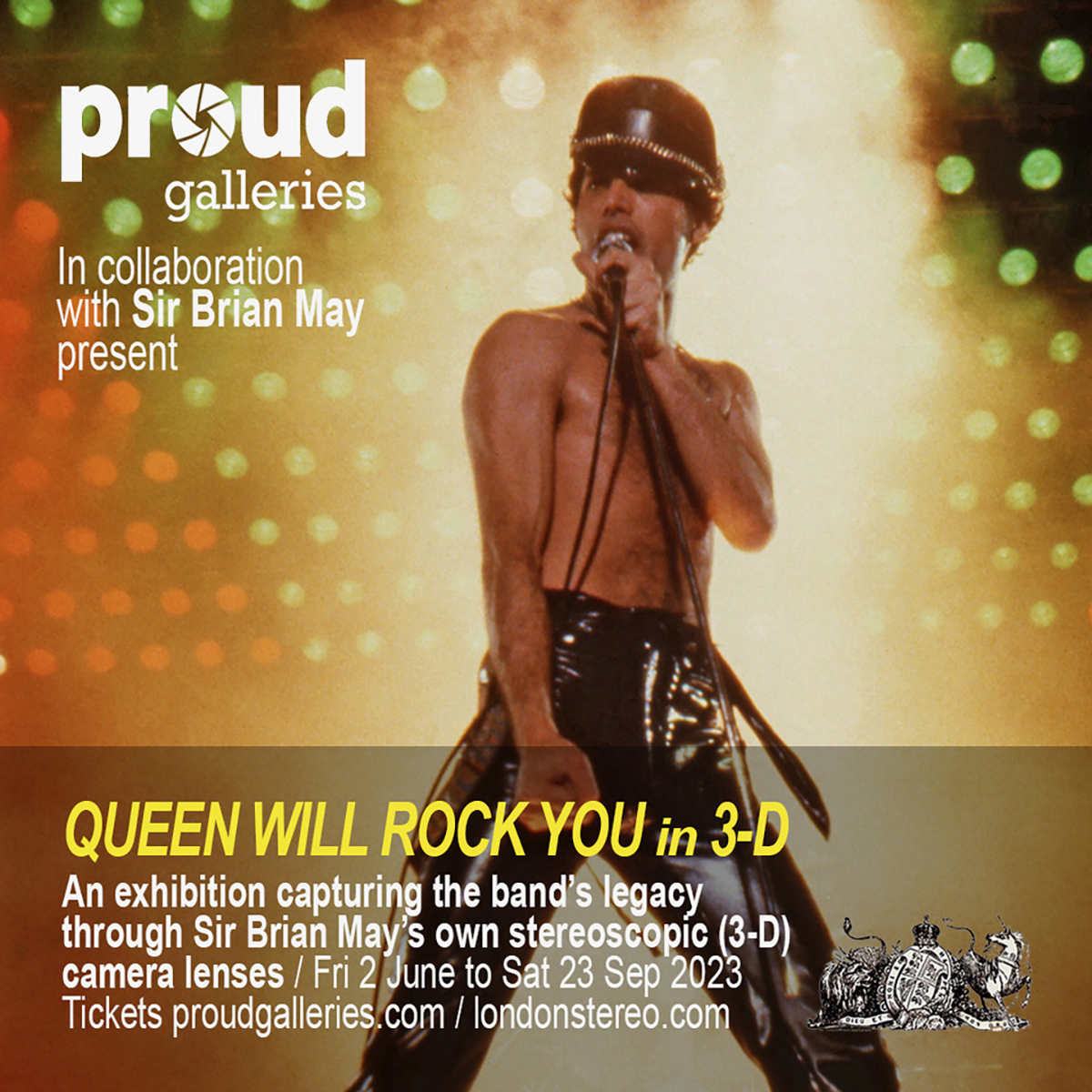 7 April 2023 | Admin
Tonight Alex Proud, Founder of Proud Galleries, presented Sir Brian May and Anne Brummer with a £5000 cheque for THE SAVE ME TRUST. The donation was generated from proceeds of ticket sales and book signings so far for the Stereoscopy Is Good For You Exhibition, which the Proud Galleries have hosted for the past five months in Charing Cross.
The Save Me charity was launched by Brian May and Anne Brummer in 2009, an animal welfare organisation dedicated to giving wild animals a voice. Appropriately, the London Stereoscopic Company's book Stereoscopy Is Good For You celebrates the joy and wonder that nature and wildlife brought to so many people during lockdown, through the power of 3-D photography.
The exhibition, curated by Alex Proud and Sir Brian, features beautiful 3-D photos taken by people around the world to lift their spirits during uncertain times. It has been a great success over, and officially ends on Saturday 8th April. If you haven't made it yet, there is still time ! You can book a ticket for Friday or Saturday here www.proudgalleries.com
Watch out for an announcement next week about the future of the exhibition !
Brian May says - "In our ongoing collaboration with Alex Proud, he has kindly given us home for the London Stereoscopic Company which we hope will continue to flourish. His generosity in helping Save-Me work has made the partnership even more fruitful. Stereoscopy Rocks ! "
Anne Brummer says - "It's lovely to see how Brian's passions interconnect - the pictures displayed are beautiful and it's no surprise that so many people took pleasure from the natural world. The Proud Gallery has been so generous in its support of Save Me and the work that we do and it's so lovely to see this unique exhibition showcased in this intimate gallery. Can't wait for the next"
Alex Proud says - "It has been such an honour to collaborate with Sir Brian May and The London Stereoscopic Company, introducing the magic of 3-D photography to the UK. Tonight I am thrilled to present this cheque to an incredibly important cause, The Save Me Trust."
About The Save Me Trust
The Save Me Trust was founded by Sir Brian May and Anne Brummer in 2009. The trust is an animal welfare organisation that exists to proactively protect wild animals through campaigning, lobbying to change laws, as well as ongoing active animal rehabilitation at the Rescue in Windlesham. The team specialise in collaborating with experts by working on the ground to find effective sustainable solutions based on science and common sense.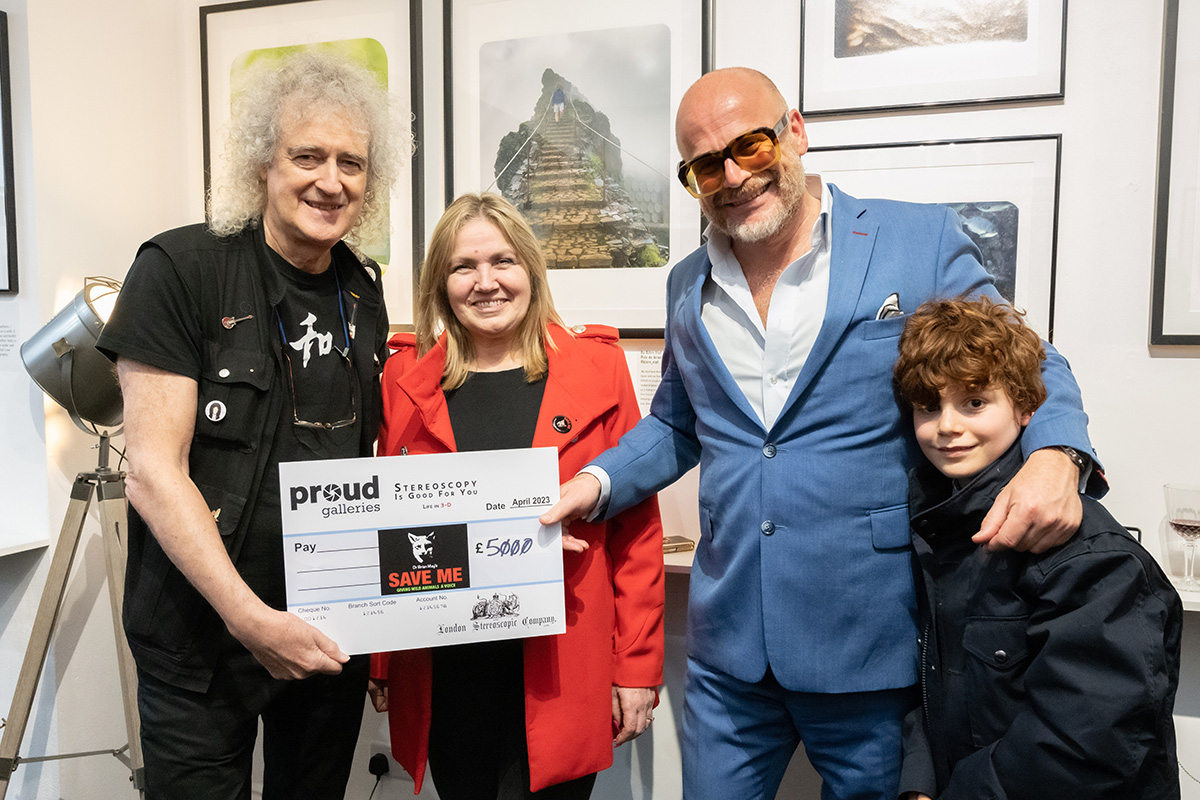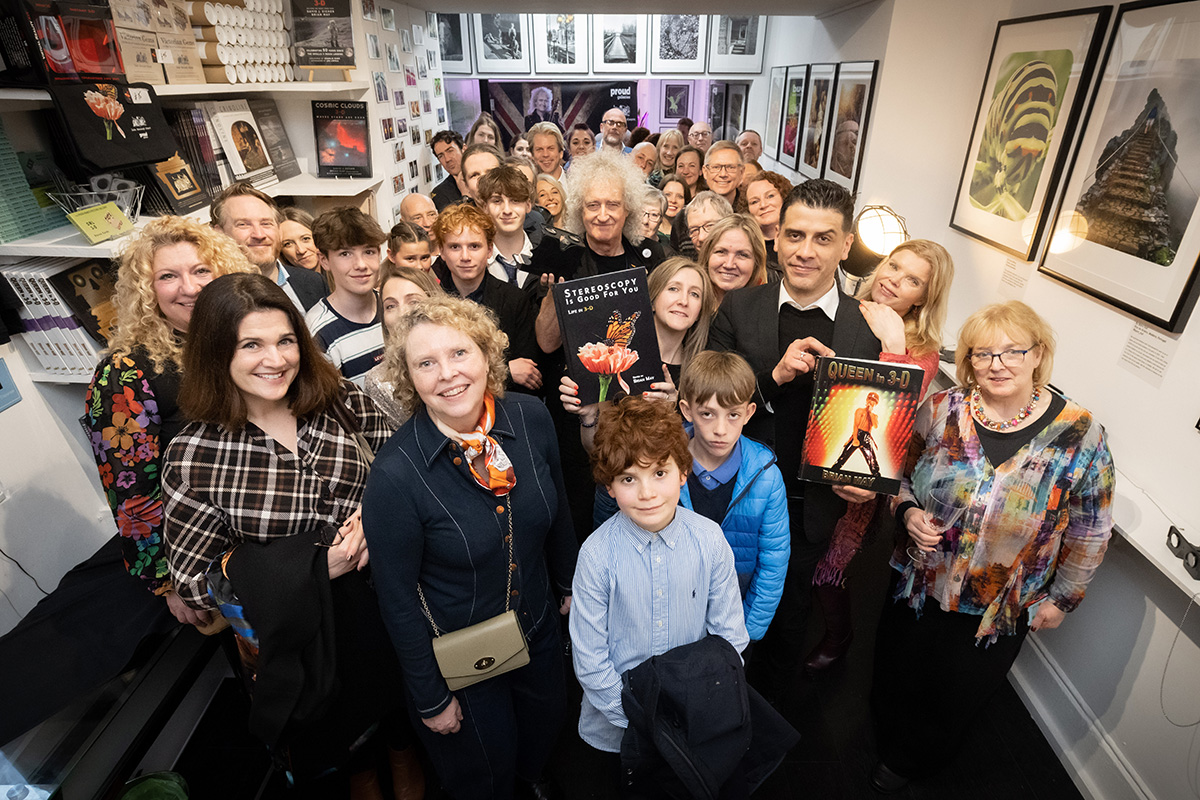 8 March 2023 | Admin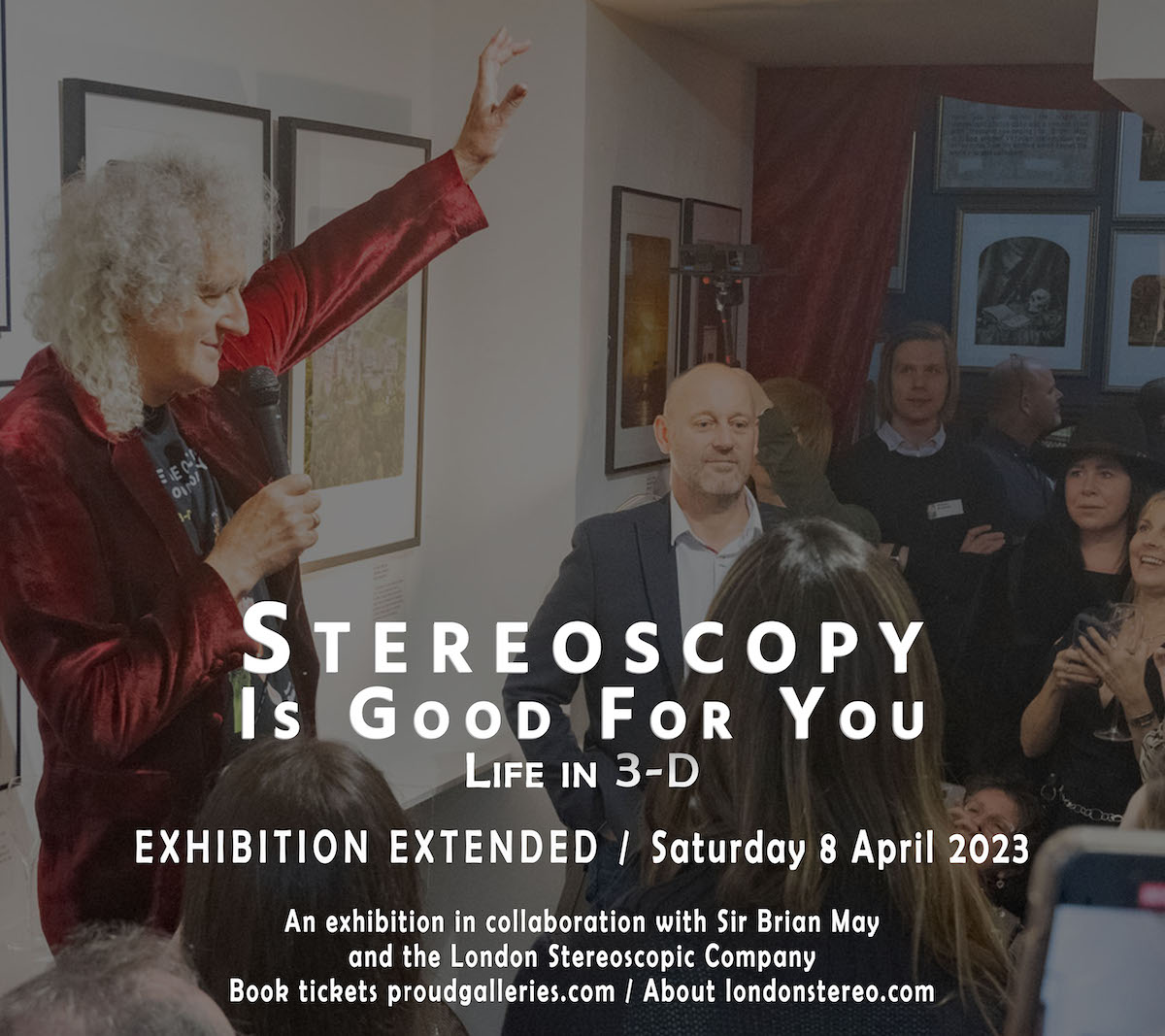 Stereoscopy Is Good For You / Ends 8 April 2023 / Tuesday to Sunday / Tickets proudgalleries.com / London WC2N 6BP / photography@proud.co.uk
Proud Galleries, Sir Brian's The London Stereoscopic Company are pleased to extend gratitude to those who came to view the show. They are happy to share the news that, due to popular demand, the stereo exhibition will be extended until Saturday 8 April 2023. Proud and the LSC want to thank the public and press for your extraordinary response, and for helping spread the wonders of stereoscopic (3-D) photography to a worldwide audience. We highly recommend experiencing the magic of stereoscopy if you have not had the opportunity to visit us yet.
This show exhibits 3-D photography from Brian May's latest publication 'Stereoscopy Is Good For You: Life in 3-D', capturing life, beauty and joy from 3-D photographers across the world, during our challenging times on Earth. It also includes a dazzling array of historical images communicating the excitement of stereoscopy in Victorian times, and a selection of Brian May's own stereoscopic work depicting Queen from the inside.
Proud Galleries exclusively houses the first ever modern London Stereoscopic Company shop, stocked with all the unique books and treasures they have created over the past 16 years, including the stereoscopic OWL viewer designed by Sir Brian May himself!
#stereoscopyisgoodforyou
#proudgalleries
#collectingphotography
#brianmay
#london
#photography
4 March 2023 | Admin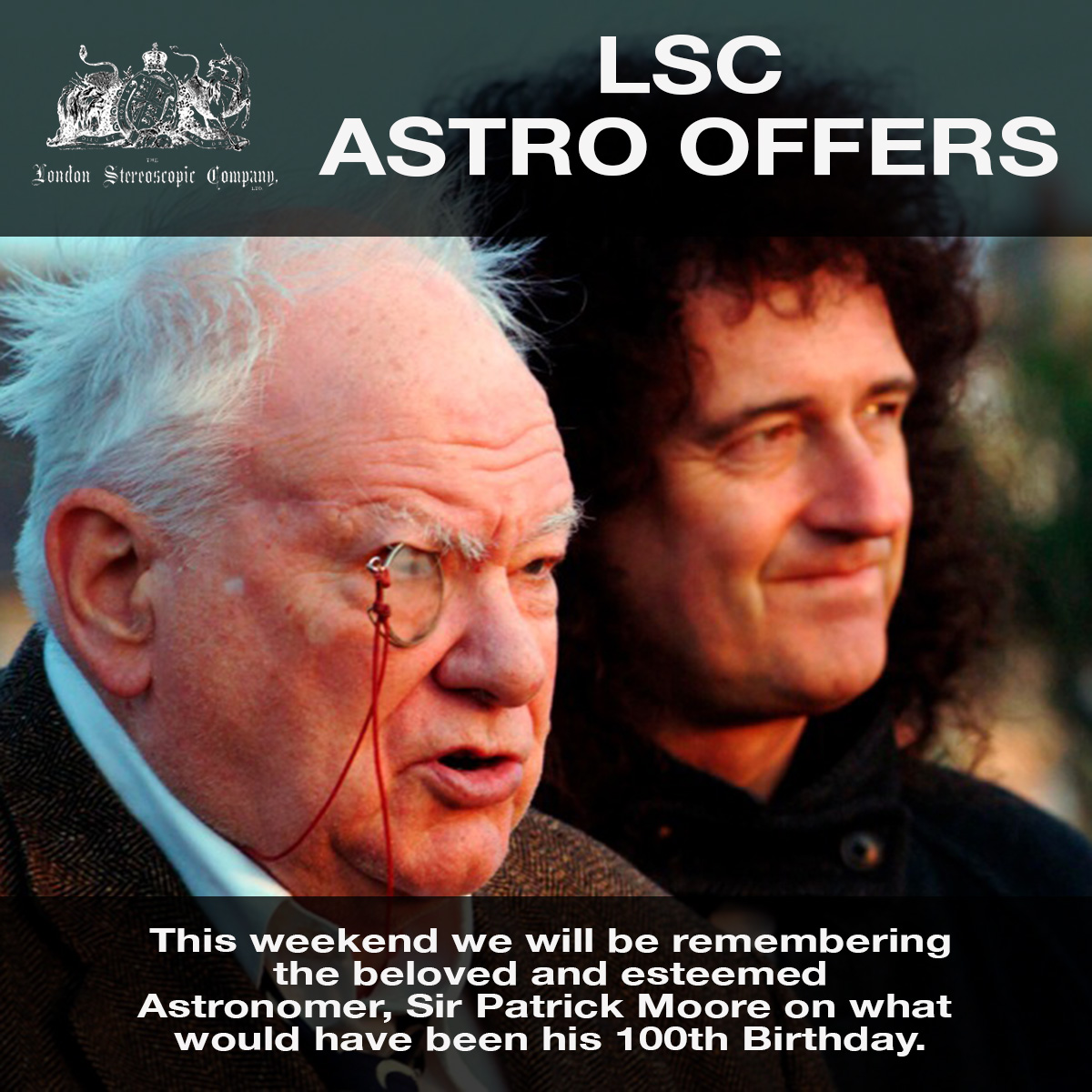 Today we will be celebrating the 100th anniversary of the birth of Sir Patrick Moore.
We have a range of special offers on all astronomy related titles.
For one week only or whilst stocks last!