Wednesday, 21 October 2020 | Admin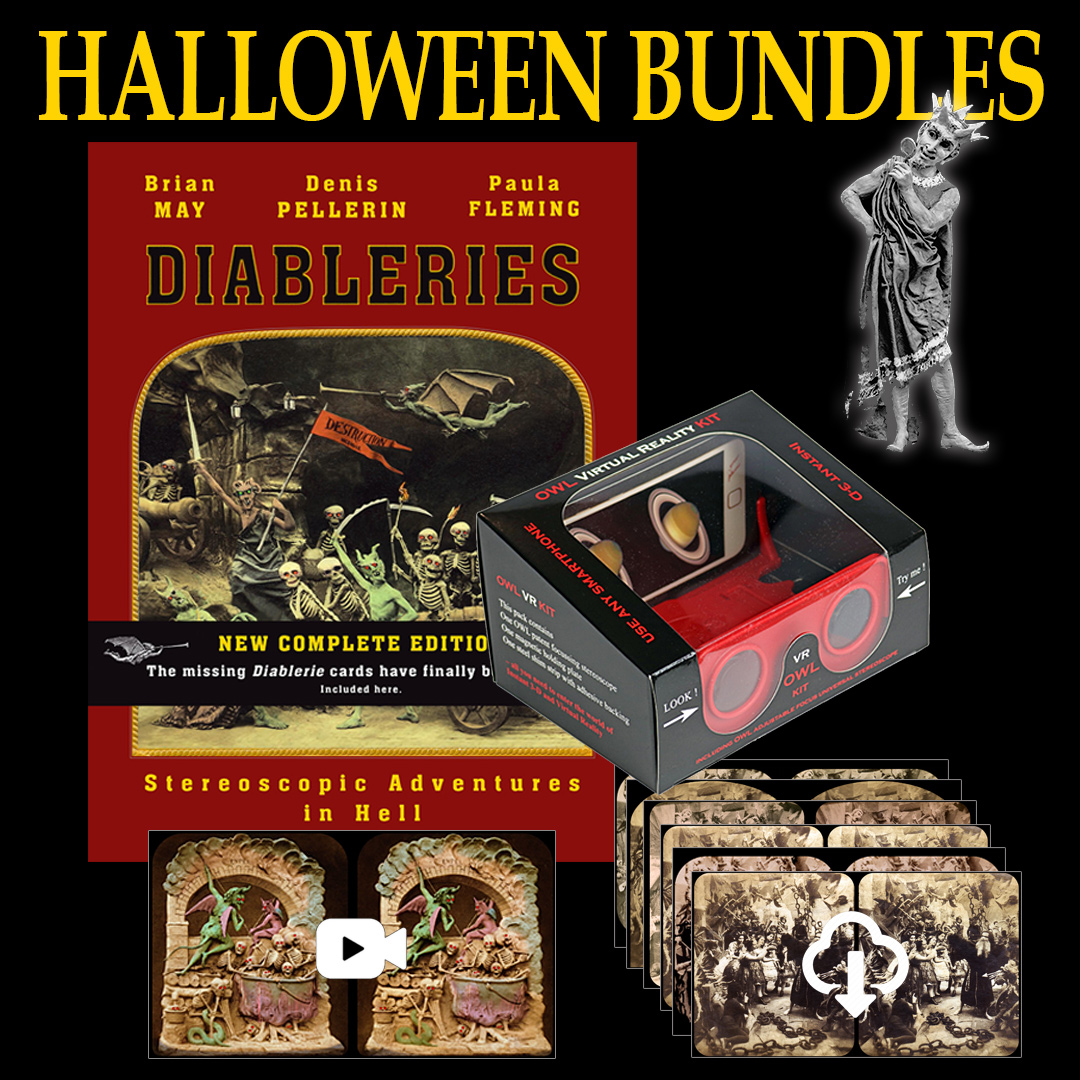 THIS HALLOWEEN THE DIABLERIES ARE BACK
FOR BUNDLES OF DEVILRY
Wednesday, 23 September 2020 | Admin
Brian calls out for you all to join him TONIGHT at the launch of "the worlds first book on nebulae illustrated in 3-D" where you will be taken on a fantastic journey,​ spanning the birth, death and recycling of stars.
Hosted by
The Science Museum at 8pm LIVE on YouTube
The book is officially available to buy HERE
@Science Museum
@londonstereo
Wednesday, 23 September 2020 | Admin
The world's first ever online global book launch of its kind!
The Bookseller

Have you set your reminder on YouTube to join Brian and his co-creators, David Eicher and J.P Metsavainio, for a live virtual journey spanning the birth, death and recycling of stars?

> Youtube Link
See you there, tomorrow (Wed 23rd, 8pm UK time) !


Wherever you are in the world, The London Stereoscopic Company invite you to the virtual launch of COSMIC CLOUDS 3-D, hosted by The Science Museum, starring BRIAN MAY along with co-creators DAVID EICHER and J-P METSAVAINIO.
When? 23 September
Where? Your home (Science Museum's YouTube)
This will be the world's first ever online global book launch of its kind.
Click Here on the link for full details on how to join what will be a fascinating discussion and mesmerising visual journey spanning the birth, death and recycling of stars, brought to your living room!
Twitter: @sciencemuseum @londonstereo
Facebook: @sciencemuseumlondon @londonstereo
Instagram: @sciencemuseum @londonstereoscopiccompany @brianmayforreal @eicher.david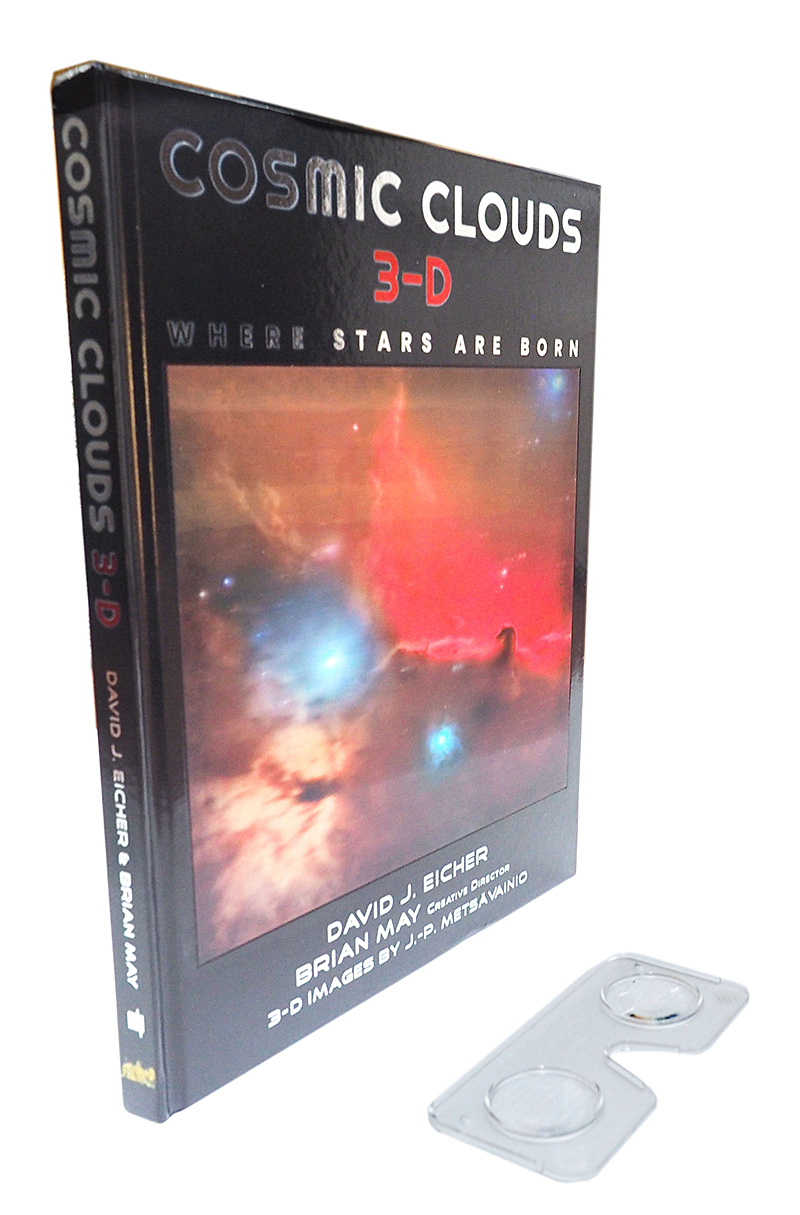 Saturday, 12 September 2020 | Admin
London Stereoscopic Company launch astronomy bundles so you can complete your LSC astro collection.... including the highly anticipated Cosmic Clouds 3-D together with the critically acclaimed Mission Moon 3-D for just £45!


Tuesday, 25 August 2020 | Admin
The highly anticipated, first ever 3-D book on nebulae - Cosmic Clouds - has been postponed until 23rd September 2020. We promise it will be worth the wait!
In the meantime, let's keep on sharing inspiring stereoscopic images from all over the world #londonstereovibes
Keep well wherever you are.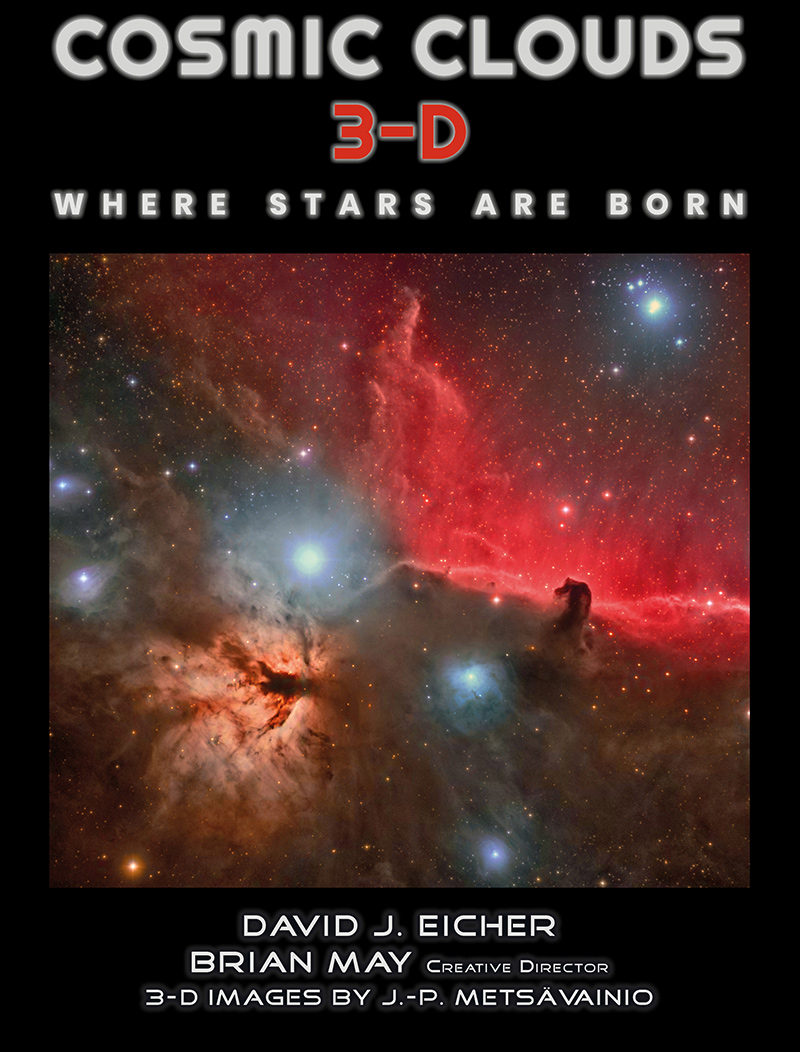 Friday, 22 May 2020 | Admin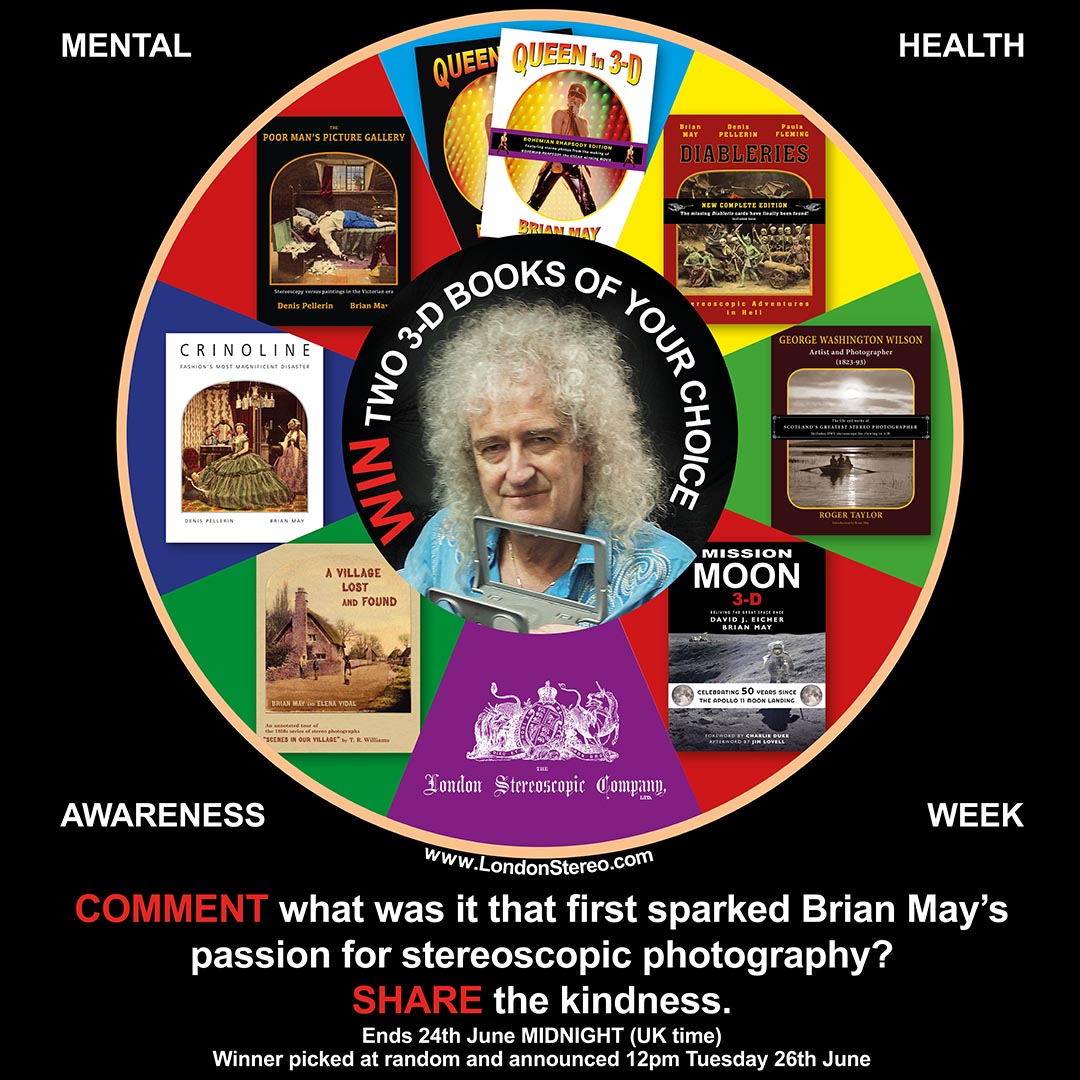 This year's Mental Health Awareness Week is all about kindness in this uncertain time and Brian's London Stereoscopic Company's kind act is to offer you the chance to
WIN two 3-D books of your choice!
Just head to the competition post on the @londonstereo Facebook page and
COMMENT what was it that first sparked Brian May's passion for stereoscopic photography?
And SHARE the kindness
Happy Friday!
Friday, 15 May 2020 | Admin
50% discount offer on all LSC books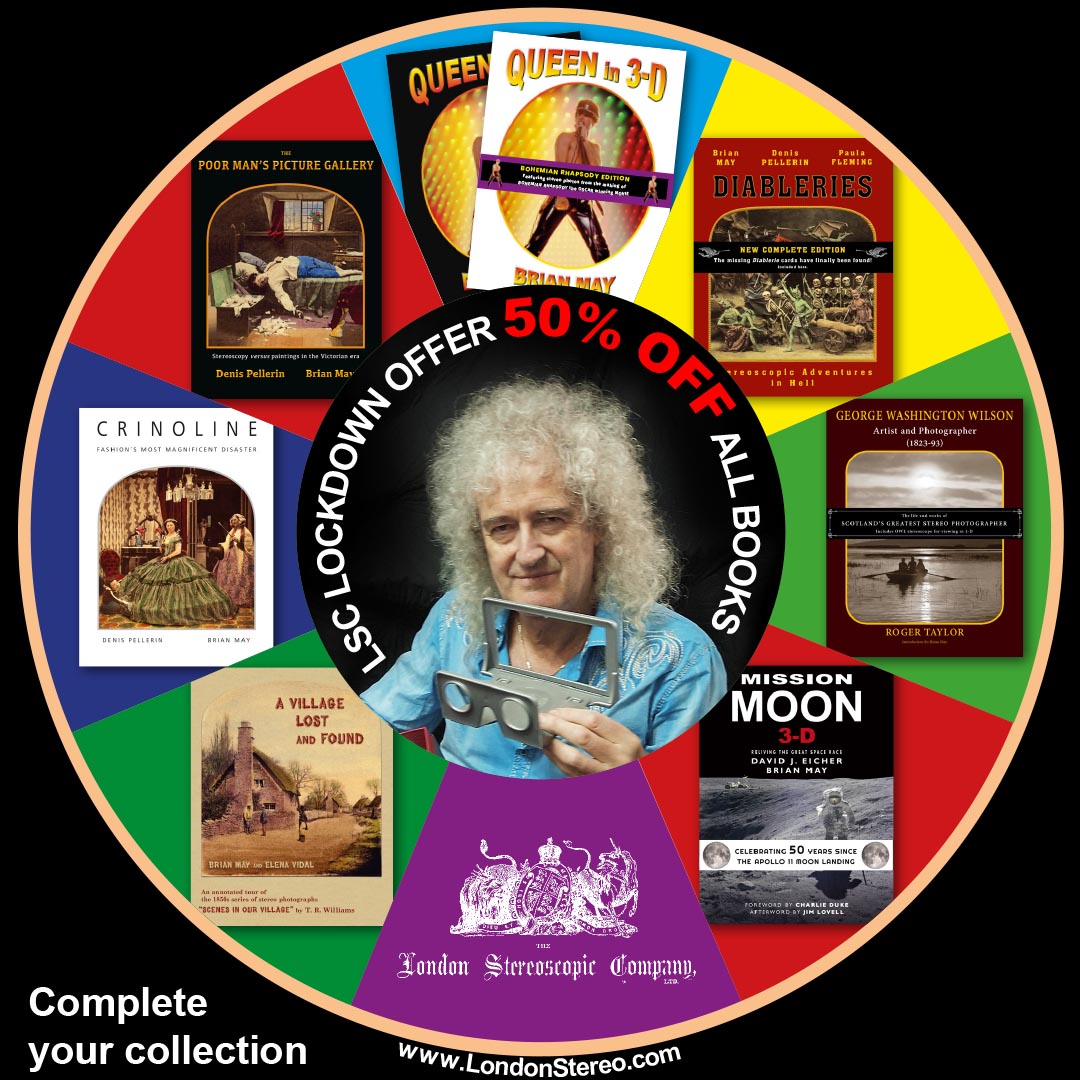 We still want to bring you our stereoscopic treasures to lose yourselves in during this uncertain time and we are discounting all publications sold directly through the LSC by 50%.
Now is the time to complete your collection!
We will do our best to deliver titles as fast as possible but please be patient as it may take a little longer than usual to dispatch orders.
Please Note:
1. The offer applies while stocks last and while our distribution system remains operational.
2. It is available worldwide but please be aware that overseas deliveries might be severely delayed as we do not have an insight into how deliveries are operating across the world at this time.
Saturday, 25 January 2020 | Admin
As Brian landed in Tokyo for the two Queen + Adam Lambert shows at the Saitama Super Arena, his book, 'Queen in 3-D' shot up Amazon Japan's charts to position No1 in Rock Books!
Thursday, 31 May 2018 | Admin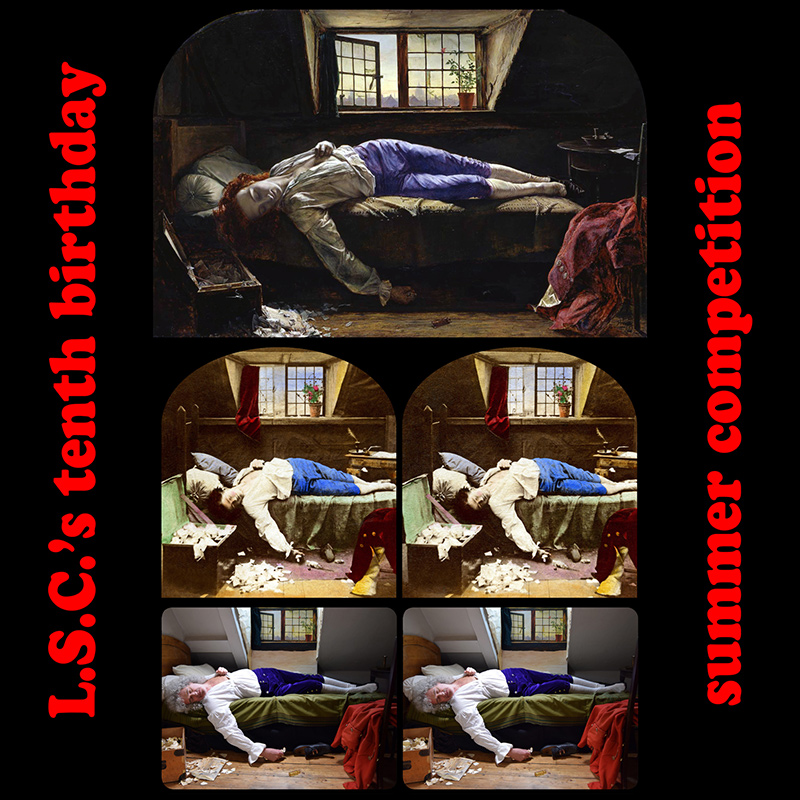 To celebrate the LSC's tenth birthday we are organising a summer competition, open to anyone in the galaxy.
We would like you to re-stage, in side-by-side 3-D, one of the paintings which was turned into a stereo-card in the Victorian era and that you will find in our book: The Poor Man's Picture Gallery (it has to be one of the paintings from the book).
Thursday, 3 November 2016 | Admin
Designed by Brian May, the Lite Owl is so small, thin and light that it can be slipped into a pocket or worn round the neck with a cord so that it is always at hand.

It can be used to view modern or vintage stereocards, stereo illustrations in books and magazines but also 3-D videos and even VR content on your smartphone.