17 June 2021 | Admin
Brian May has launched a Queen in 3-D competition that he'd like you to enter
24 May 2021 | Admin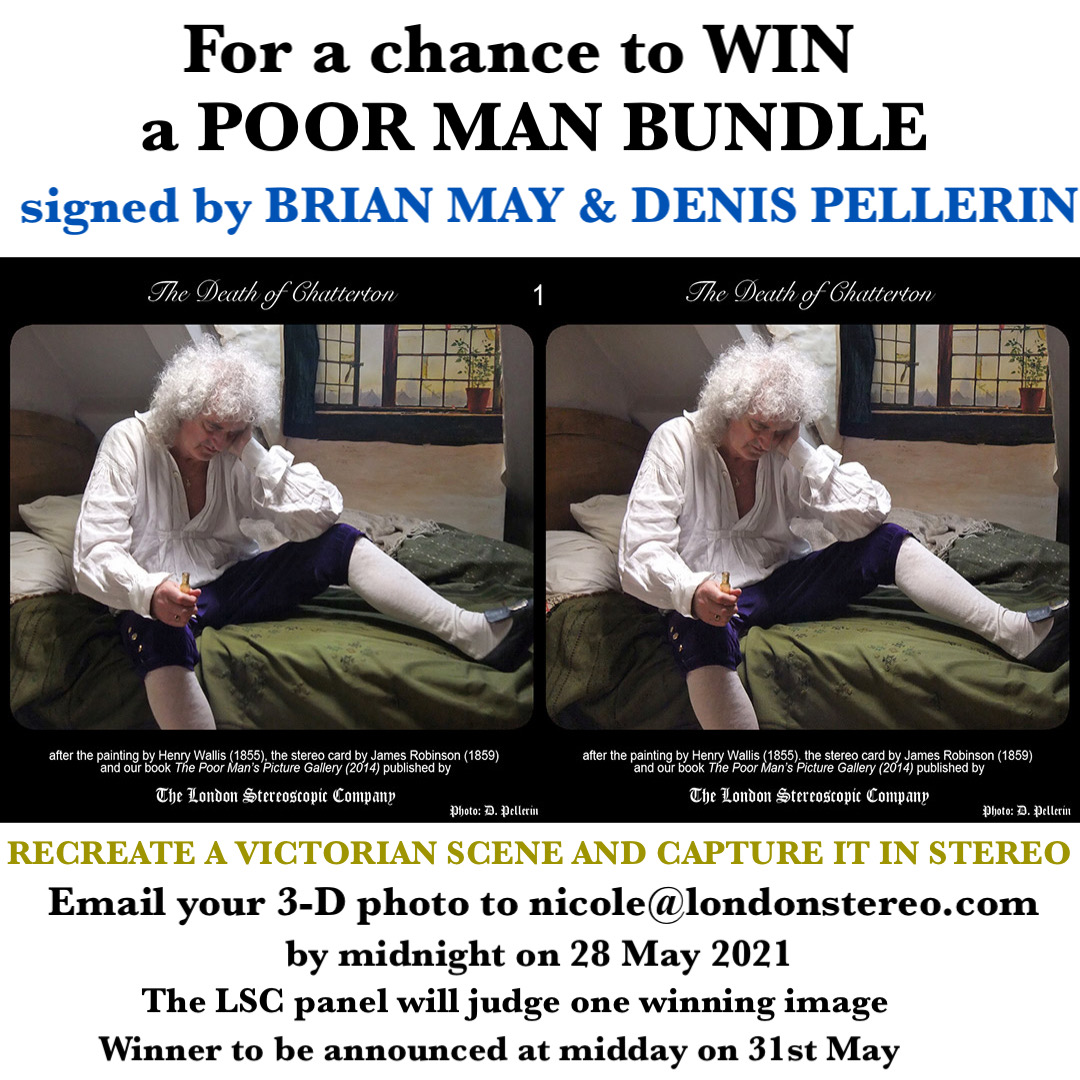 It's one that will present you with an almighty challenge this weekend - to venture back in time to the era of the Victorians!

The prize includes:
A copy of the lavish The Poor Man's Picture Gallery
A bookplate with Brian May and Denis Pellerin's signature
A pack of stereoscopic cards
AND six very special digital images of Brian re-enacting the tragic fate of Chatterton

View the treasure of a prize here
https://shop.londonstereo.com/poor-mans-picture-gallery-stereo-cards-bundle.html

To take part:
See instructions on the visual.

And if you don't already have one, you will need to download a free stereoscopic camera app, such as 3D Photo for iPhone or 3DSteroid for Android.... then get snapping!

SHARE the mission #keepcreative

Good luck!
21 May 2021 | Admin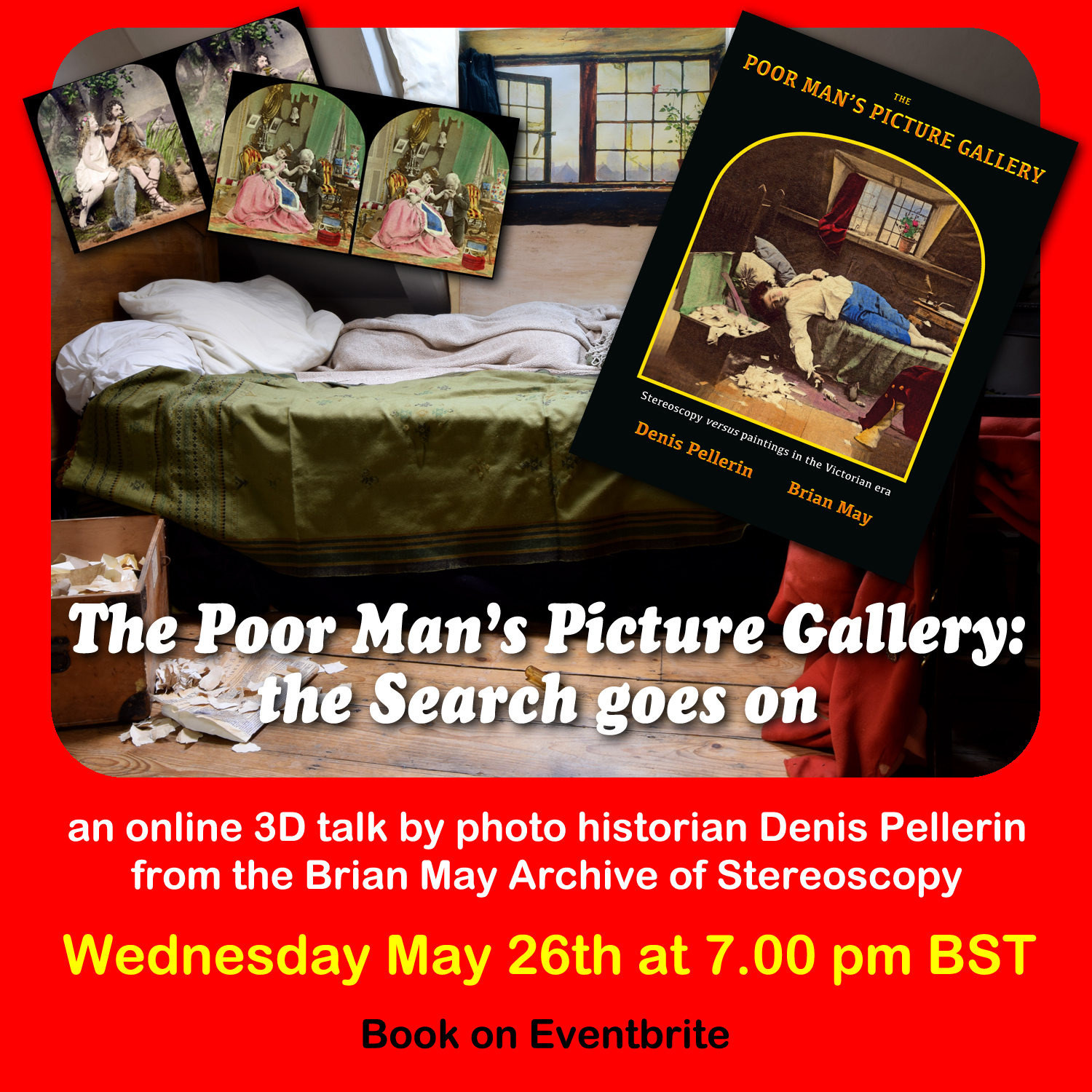 Brian May's The London Stereoscopic Company invites the world to a FREE 3D online talk;
THE POOR MAN'S PICTURE GALLERY – THE SEARCH GOES ON
with author Denis Pellerin
Wednesday 26th May at 7pm BST
To celebrate the LSC's "Book of the month" promotion, photo historian Denis Pellerin, from the Brian May Archive of Stereoscopy, will take you on a stereoscopic journey back to the Victorian era to explore critically acclaimed book, "The Poor Man's Picture."
If you don't already have a copy of the book, check out the special bundles at the LSC store which include Brian May's signature along with Denis'. The book also comes with an Owl stereoscopic viewer that will enable you to experience the ​talk in the magic of 3-D
https://shop.londonstereo.com/book-of-the-month-bundles.html
In his presentation, Denis will examine the reasons that prompted the publication of the book in the first place and how all the original connections that are made in it between high art, popular art and stereoscopic photography, make it a unique volume that goes far beyond a simple survey of some of the best-selling Victorian stereo cards.
Although the book was released some years ago, the search for more connections still goes on and the speaker will disclose some of the latest avenues he has explored and the numerous new links between paintings and stereoviews he has discovered, and written about, since.
The images will be displayed side-by-side for parallel viewing. You can watch the whole presentation in 2D but if you want the 3D experience you will need a viewer and the LSC are running a special offer of 50% off the Owl VR kit
https://shop.londonstereo.com/VRKIT.html
The talk is free but booking through Eventbrite is mandatory.
IMPORTANT:
The Zoom link will be sent to all the booked participants on Tuesday May 25that 1.00 pm.
If you haven't received it by the evening of the 25th, please contact Denis Pellerin at denis@londonstereo.com, BEFORE the talk starts.
22 April 2021 | Admin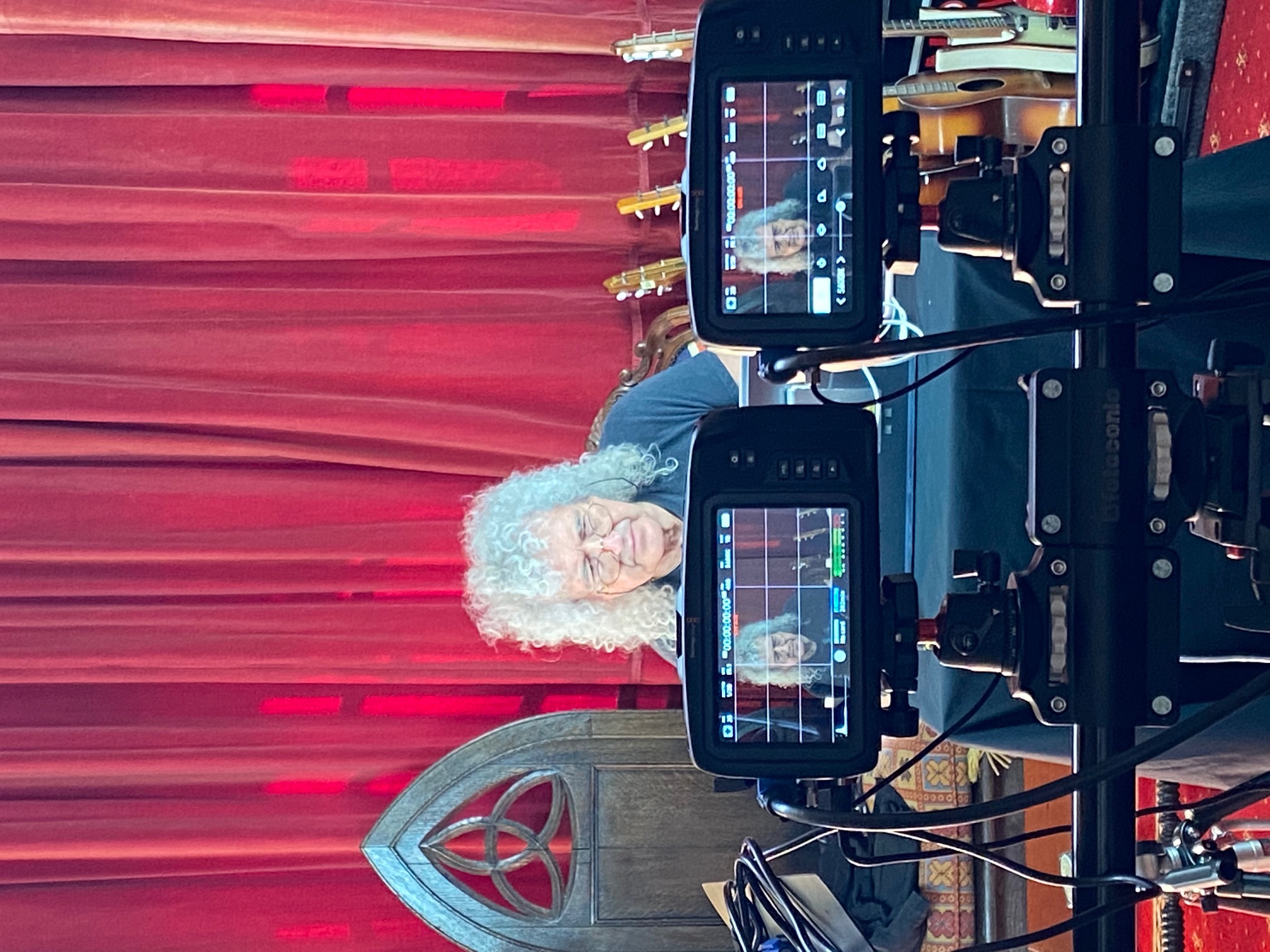 Making sense of the new cutting edge technology that will turn your host 3-D for his AstroFest talk tonight!
This is a first ever!
"I'm very happy to say that this time at Astrofest we are attempting to transmit my WHOLE talk in 3-D. That means, as well as all the stereoscopic astro photos I'll be showing, we'll be beaming ME out in 3-D as well !! I'm hoping that won't be too painful !! See you there, in depth !!"
Bri
It's a virtual affair so you may join wherever you are in the world - just pick up a ticket from www.worldwideastrofest.com
The London Stereoscopic Company has teamed up with Astrofest to present the world's first Stereoscopic 3-D virtual talk where even the host, Brian May, will be transformed into the magic of 3-D.
A 3-D Brian will explain how stereo imaging brings a new dimension to our exploration of the Universe and shall reveal some previously unseen solar system stereo images from his work with current NASA missions, including the Perseverance Mars rover.
He will also explore his latest astro-stereoscopic books - Mission Moon 3-D and Cosmic Clouds 3-D - transporting viewers on a fascinating voyage to the night sky.
"Brian May has rocked audiences for years but those attending our virtual AstroFest event will see him in a new dimension. For the first time, he will be beamed into their homes live in 3-D to explain how stereo imaging is changing our understanding of the Universe." Steve Young, Astrofest Organiser
To view the talk in 3-D:
The London Stereoscopic Company are running a 50% off offer on the OWL VR Kit designed by Brian May - at checkout enter code
https://shop.londonstereo.com/VRKIT.html
OR you can make your own!
OR free view!
(The talk can still be appreciated in 2-D, if you don't have time to get a viewer!)
19 March 2021 | Admin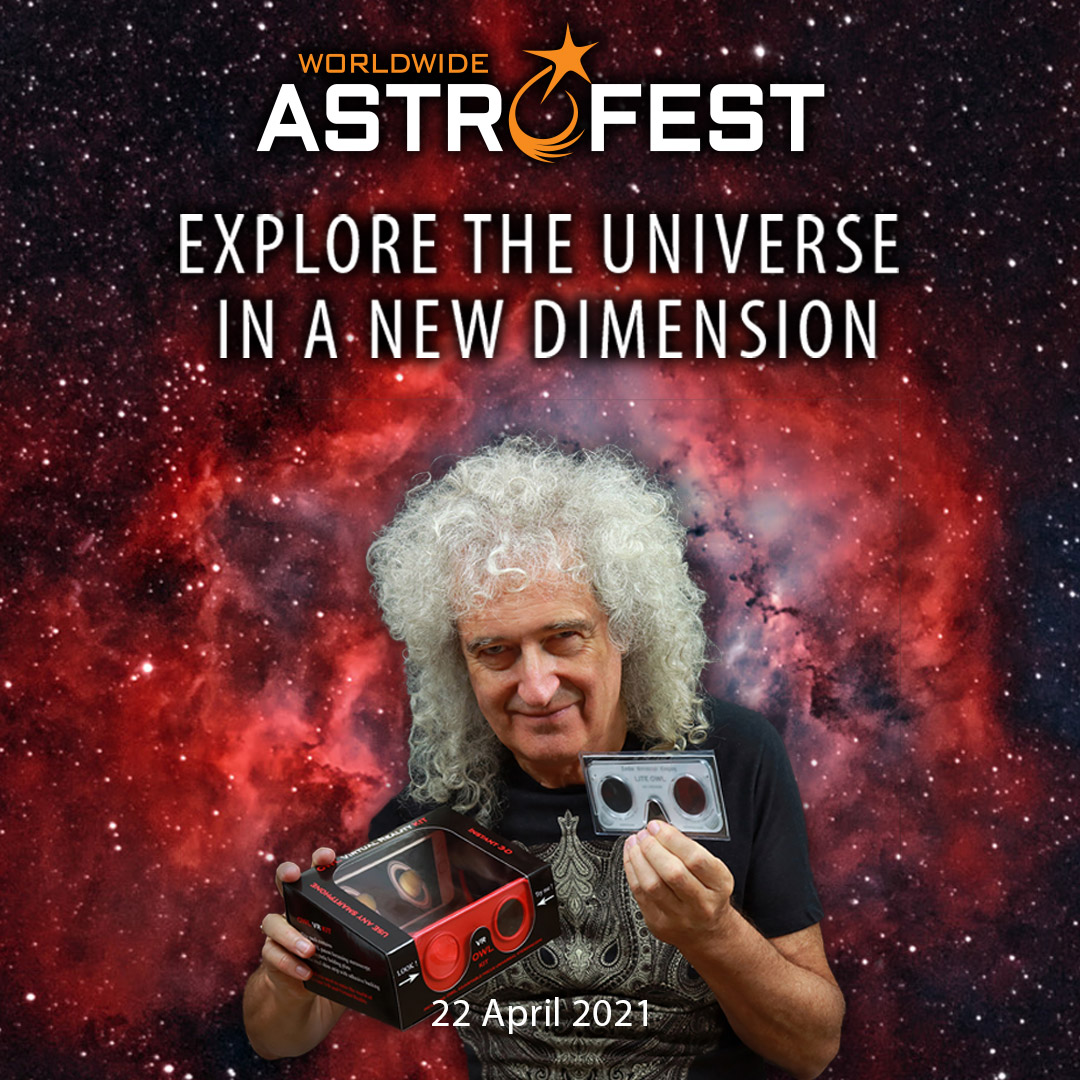 NEWSFLASH: On 22 April at 7.30pm Brian shall be presenting at the world's leading astronomy festival - AstroFest - and this year sees the festival go virtual for the first time.
You're invited to explore the Universe in a thrilling new dimension as Brian shares how 3-D imagery is expanding our understanding of the cosmos. He will discuss his latest astro-stereoscopic books and reveal new stereos from his work with current NASA missions, including the Perseverance Mars rover.
Hit the link to get your tickets now and find a special offer code to get equipped with an OWL VR Kit that will transform the talk into captivating 3-D!


#Astrofest2021
23 February 2021 | Admin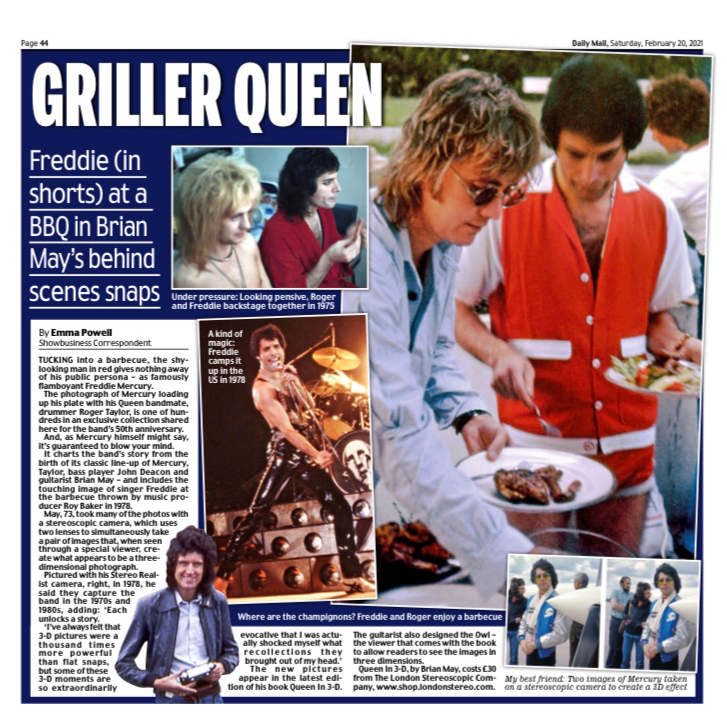 Saturday's DAILY MAIL featured captivating images from Brian's Queen in 3-D collection....
And if you don't already have a copy of the book that captures the 50 year legacy of the band through Brian's camera lenses and narrative - MAIL are running a SPECIAL OFFER to snap it up for £20 from the LSC store
Just check article for the reader offer code
"Each picture unlocks a story, often in a long-forgotten situation that the 3-D pictures brought so vividly to life when re-presented to my eyes. I've always felt that 3-D pictures were a thousand times more powerful than flat snaps, but some of these 3-D moments are so extraordinarily evocative that I was actually shocked in myself what recollections they brought out of my head. So in Queen's 50th anniversary year, this collection presents a kind of multidimensional potted history of the band, seen from my intimate point of view."
Brian
29 January 2021 | Admin
BLACK AND WHITE PHOTOGRAPHY MAGAZINE FEATURE SOME OF YOUR 3-D IMAGES OF HOPE FROM LOCKDOWN - View
As part of our lockdown stereoscopic 3-D photography mission, we've joined forces with Black+White Photography magazine (B+W) to invite you to capture, in 3-D (black and white), something that lifts your spirits during this uncertain time on Earth.
AND a selection of images will be chosen to feature on Black+White Photography magazine's website on Tuesday 16th February.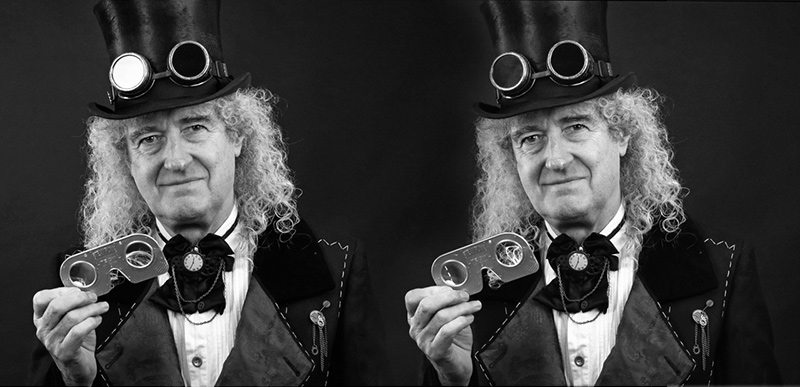 How To take part:
If you don't already have one, you will need to download a stereoscopic camera app, such as i3DSteroid for iPhone or 3DSteroid Pro for Android, then get snapping!
You may also want an OWL Stereoscopic Viewer designed by Brian May to check out your images in 3-D (unless you're able to free view)
Please email your stereoscopic 3-D black and white images to nicole@londonstereo.com by 12pm on Friday 12th February, together with your name, location and a brief sentence on why your photo brings you joy.
8 January 2021 | Admin
Brian's London Stereoscopic Company (LSC) kicks off the new year inviting you to capture images of hope and joy in 3-D, from wherever you are in the world during this challenging time we all find ourselves in.
AMATEUR PHOTOGRAPHER reports and share some highlights that illustrate the power of nature....including a beautiful sunset captured by Brian the evening before last!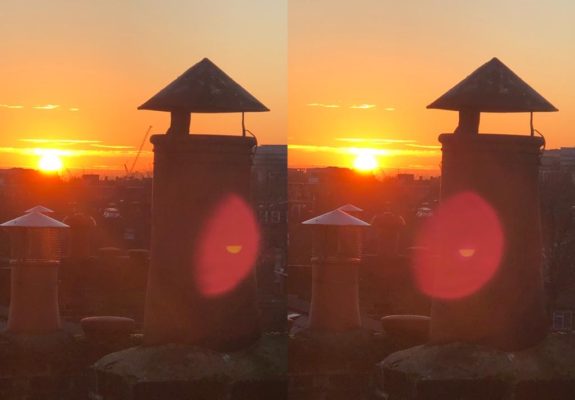 Get involved!
And if you don't already have an Owl Stereoscopic Viewer, designed by Brian, to view the images in 3-D, you can get one from the LSC store
19 November 2020 | Admin
Just in time for enjoying 3-D ADVENTURES THIS CHRISTMAS !
Brian May, founder of the 21st Century incarnation of the London Stereoscopic Company (LSC), continues to create 3-D wonders from lockdown.
Today, the LSC adds a Steampunk-inspired new dimension to its line of definitive high-quality modern-day 3-D stereoscopic viewers, delivered in a retro bronze flourish.
Echoing Victorian and Steampunk styles, for the launch of this new viewing instrument, Brian dons Steampunk attire, in a photo session in which he holds the first Steampunk OWL off the production line. In the first 'teased' picture, released last week, the new OWL is visible, but only just enough to spark an excited discussion on social media.

ORDER HERE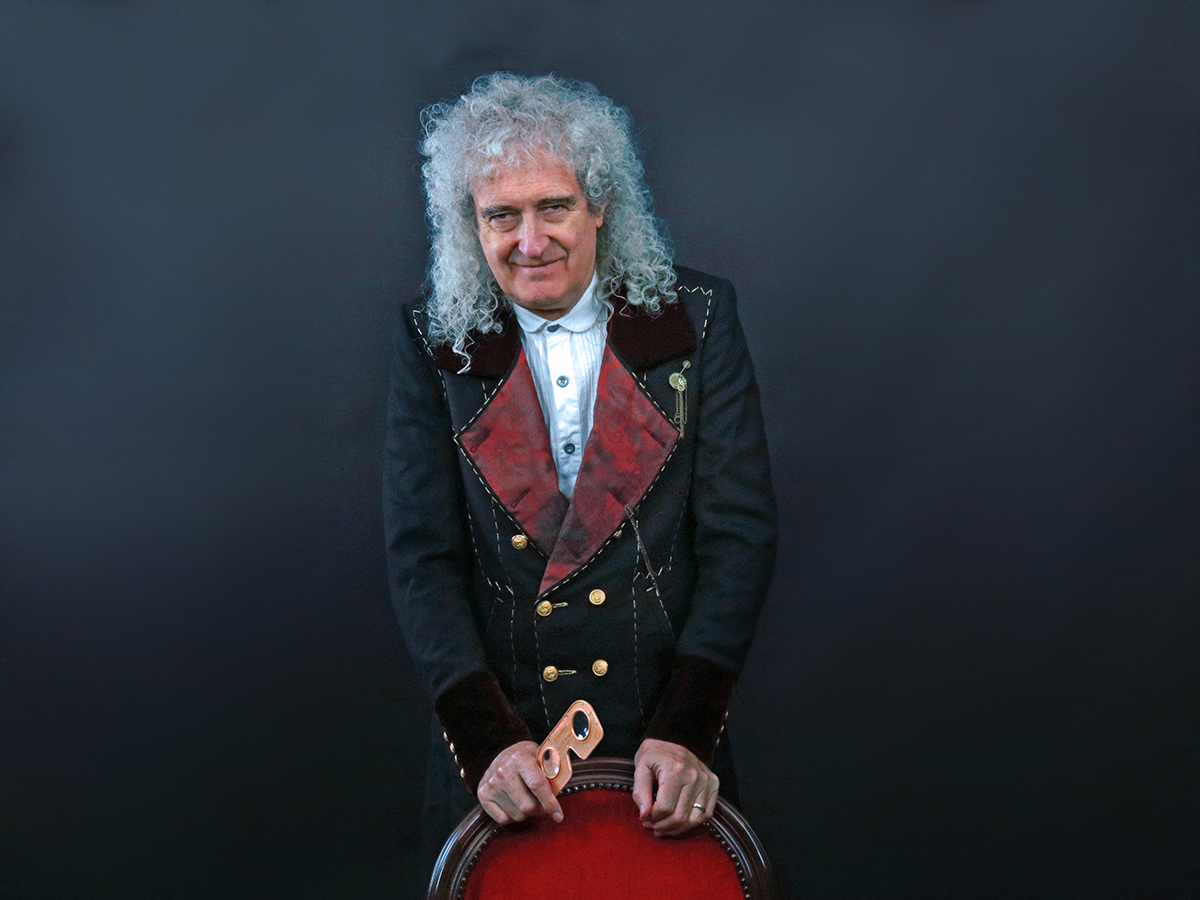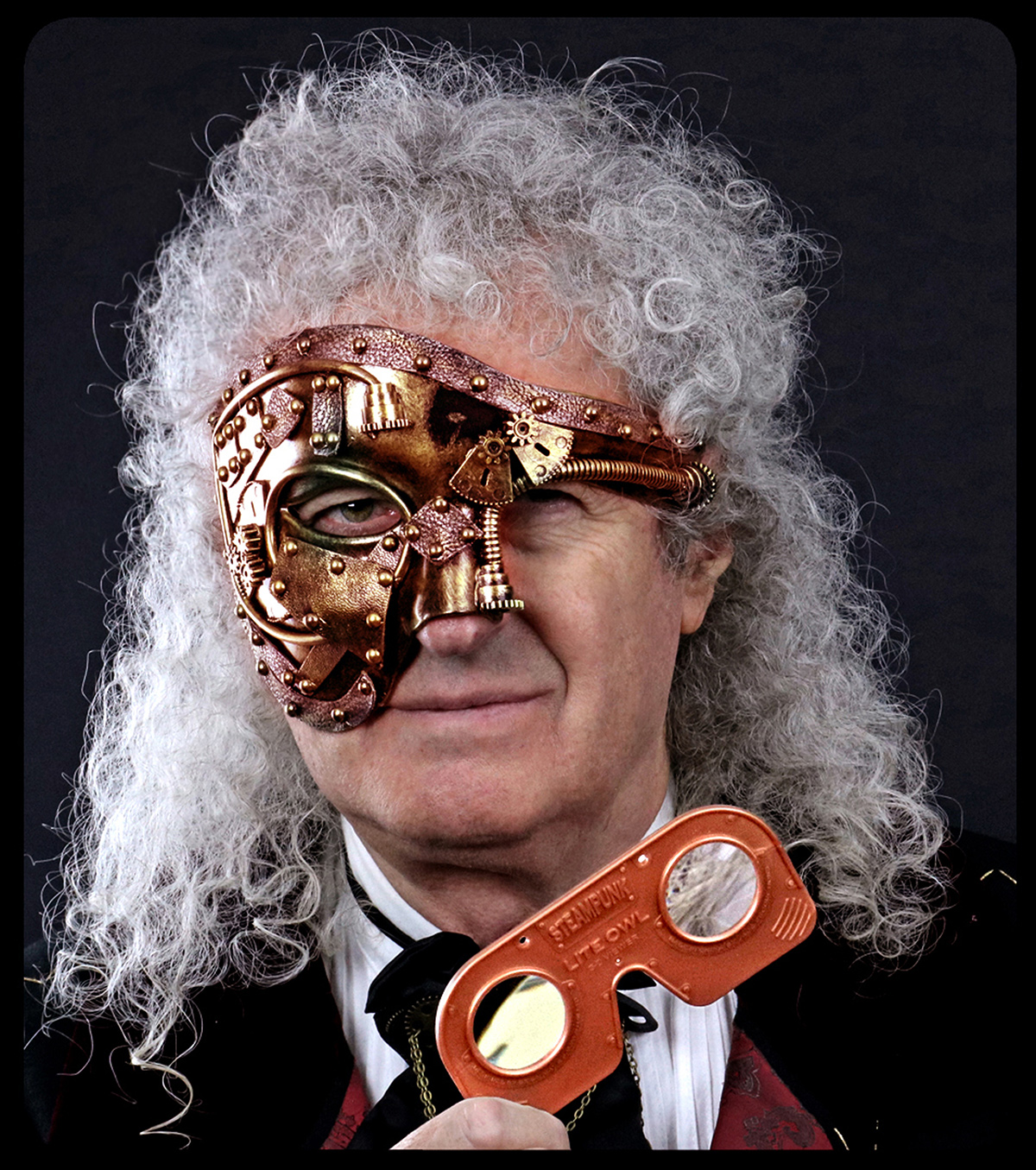 May has until now kept very quiet about this new viewer, which has been in development for nearly a year. It was designed to fulfil a perceived need for a quality viewing device for side-by side stereo pictures compact and light enough to be always carried around in a pocket or worn around the neck with a cord. The existing LITE OWL was designed for viewing stereos in books, and has also been used as a travel stereoscope, but its one-piece construction in Acrylic material made it too brittle to survive in some trouser pockets ! This new device is rugged, moulded in metallic-effect Polypropylene with acrylic lens inserts. Geometrically it is closer to the classic OWL design, with a slightly longer focal length than the LITE OWL, making 3-D viewing for many people just a little easier.
Why SteamPunk ?
Brian says "The style of the viewer was inspired by the current Steampunk genre - a fanciful combination of Victorian style and pre-combustion engine technology. Steampunk has been described as how the World would have looked if the Victorians had managed to get into Space, as Jules Verne and H.G. Wells dreamed. Stereoscopy – now known as 3-D – was invented in 1832 by Englishman Charles Wheatstone, and this new instrument, firmly based on the genius of his designs, seemed a perfect opportunity to incorporate steampunk motifs into its appearance. The design also owes a lot to my old friend Chris Dodman at S.B. Westons in Sunbury-upon-Thames, who collaborated on the design of the very first 'Classic' folding focussing OWL in 2009. It's manufactured by my friends in China, Jade Productions, who have also printed our most recent LSC books. The first limited edition Steampunk OWLs arrived today - a introductory limited edition in a special themed cardboard packet. They will be flying out very soon !!!"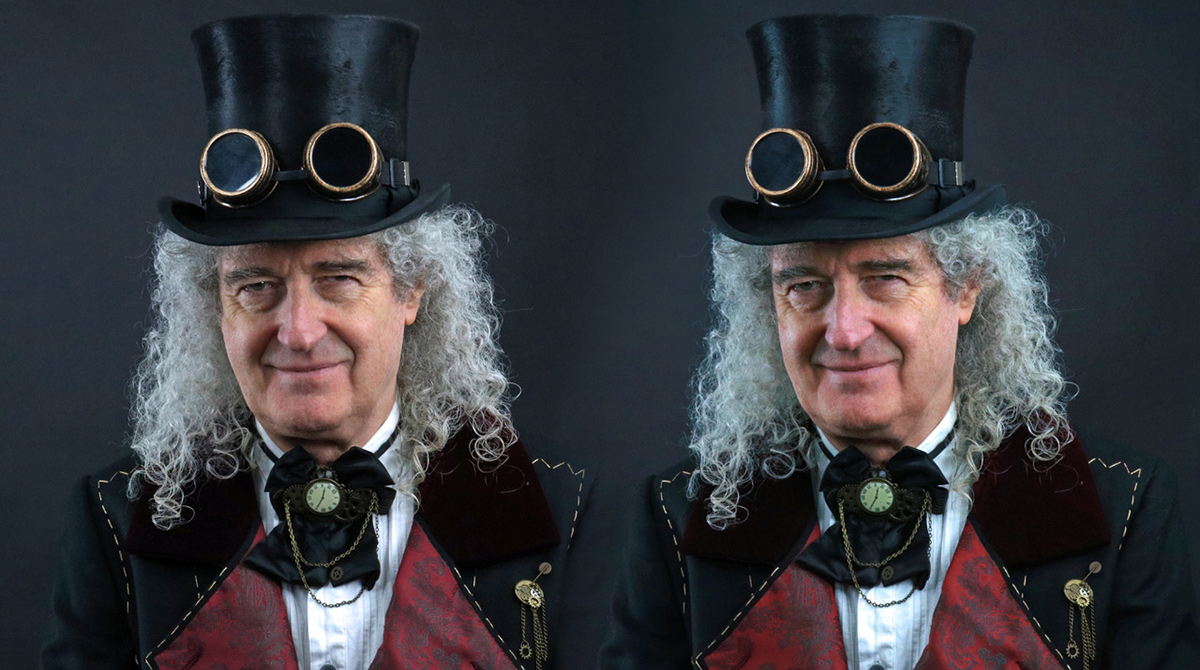 Brian's London Stereoscopic Company currently presents stereoscopic images (as stereo cards and illustrations in books) using the highest resolution printing technology available today, and viewed through this new device, these visuals are guaranteed to spring to life in glorious 3-D, just as in Victorian times. The Steampunk OWL can also be used to view 3-D videos and VR content on any smartphone.
The LSC's mission is to inspire a new generation to embrace stereoscopy, by sharing the world's greatest 3-D images – from Victorian times to the present day. The cutting-edge Steampunk OWL will be a welcome addition to the line.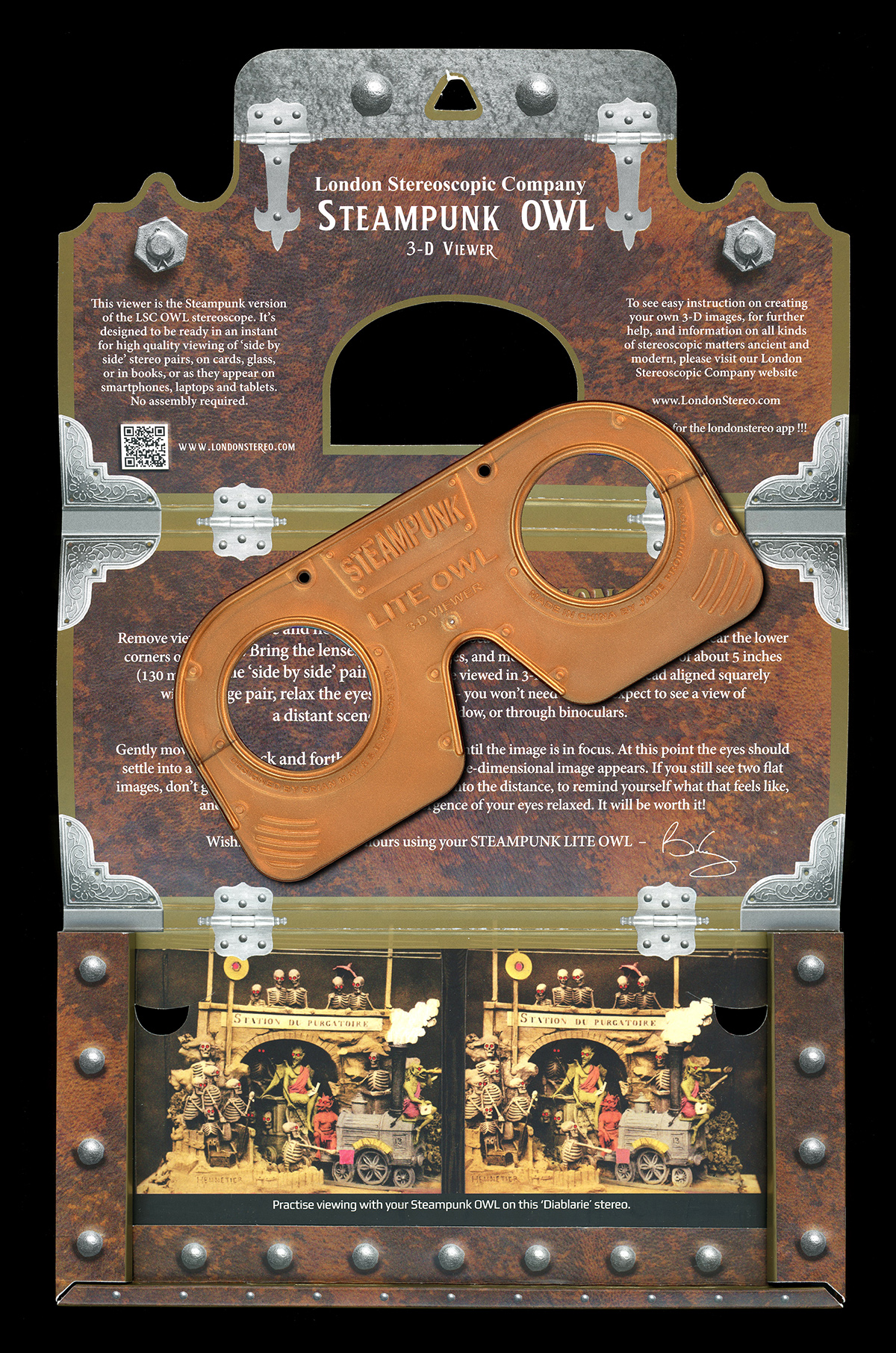 ORDER HERE