Friday, 29 January 2021 | Admin
BLACK AND WHITE PHOTOGRAPHY MAGAZINE FEATURE SOME OF YOUR 3-D IMAGES OF HOPE FROM LOCKDOWN - View
As part of our lockdown stereoscopic 3-D photography mission, we've joined forces with Black+White Photography magazine (B+W) to invite you to capture, in 3-D (black and white), something that lifts your spirits during this uncertain time on Earth.
AND a selection of images will be chosen to feature on Black+White Photography magazine's website on Tuesday 16th February.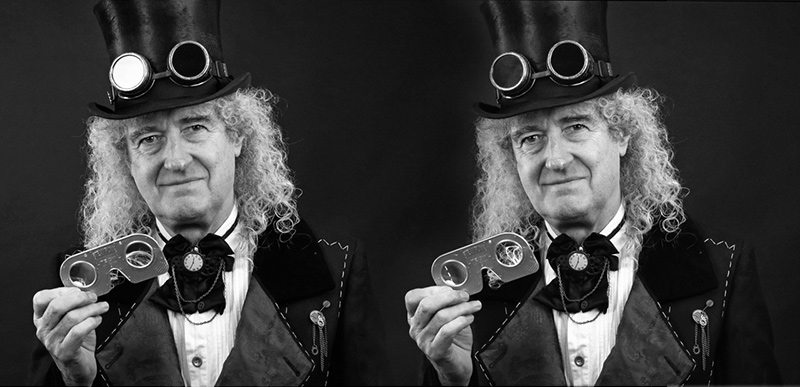 How To take part:
If you don't already have one, you will need to download a stereoscopic camera app, such as i3DSteroid for iPhone or 3DSteroid Pro for Android, then get snapping!
You may also want an OWL Stereoscopic Viewer designed by Brian May to check out your images in 3-D (unless you're able to free view)
Please email your stereoscopic 3-D black and white images to nicole@londonstereo.com by 12pm on Friday 12th February, together with your name, location and a brief sentence on why your photo brings you joy.
Friday, 8 January 2021 | Admin
Brian's London Stereoscopic Company (LSC) kicks off the new year inviting you to capture images of hope and joy in 3-D, from wherever you are in the world during this challenging time we all find ourselves in.
AMATEUR PHOTOGRAPHER reports and share some highlights that illustrate the power of nature....including a beautiful sunset captured by Brian the evening before last!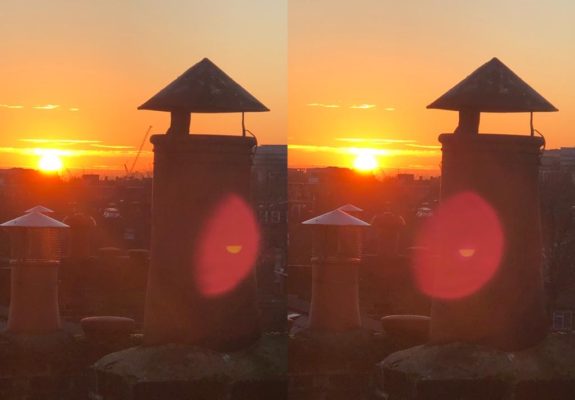 Get involved!
And if you don't already have an Owl Stereoscopic Viewer, designed by Brian, to view the images in 3-D, you can get one from the LSC store
Thursday, 17 December 2020 | Admin
Thursday, 19 November 2020 | Admin
Just in time for enjoying 3-D ADVENTURES THIS CHRISTMAS !
Brian May, founder of the 21st Century incarnation of the London Stereoscopic Company (LSC), continues to create 3-D wonders from lockdown.
Today, the LSC adds a Steampunk-inspired new dimension to its line of definitive high-quality modern-day 3-D stereoscopic viewers, delivered in a retro bronze flourish.
Echoing Victorian and Steampunk styles, for the launch of this new viewing instrument, Brian dons Steampunk attire, in a photo session in which he holds the first Steampunk OWL off the production line. In the first 'teased' picture, released last week, the new OWL is visible, but only just enough to spark an excited discussion on social media.

ORDER HERE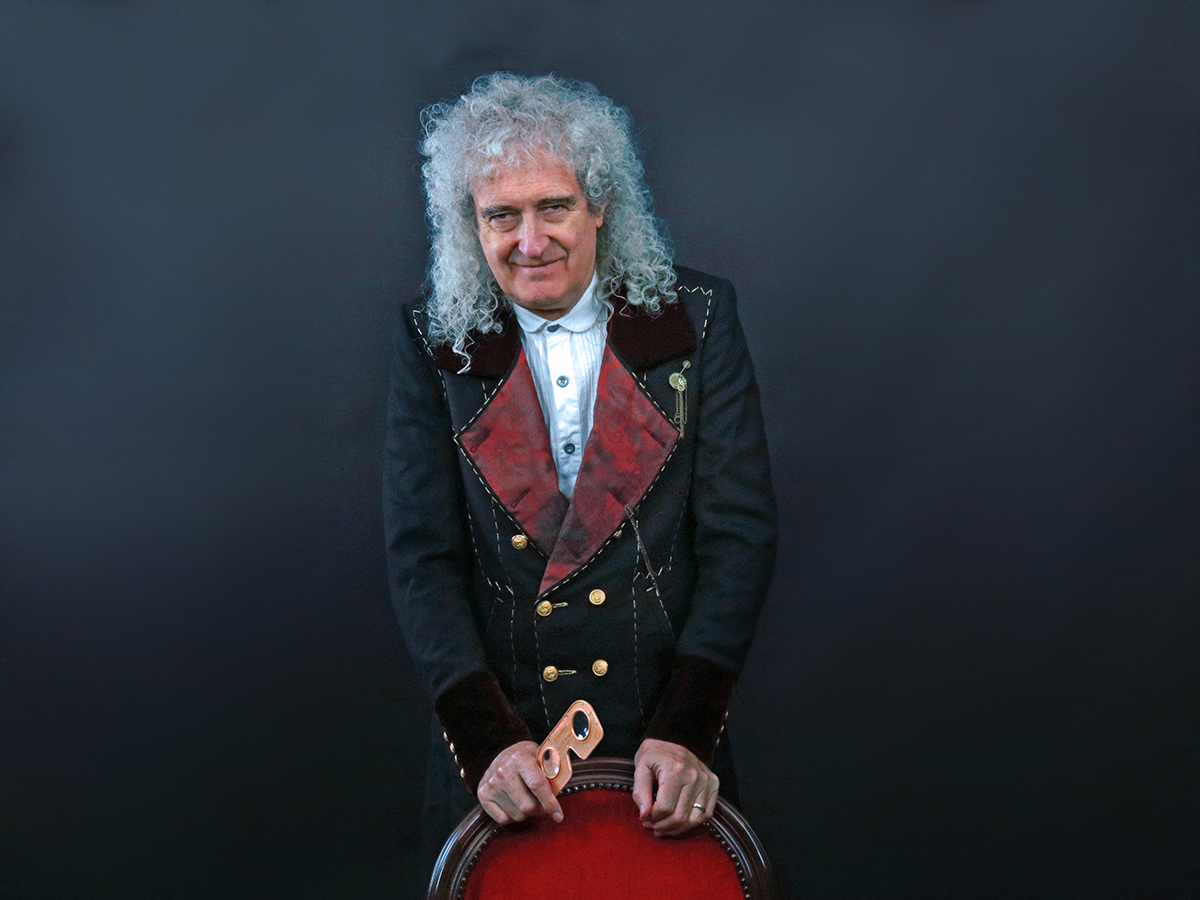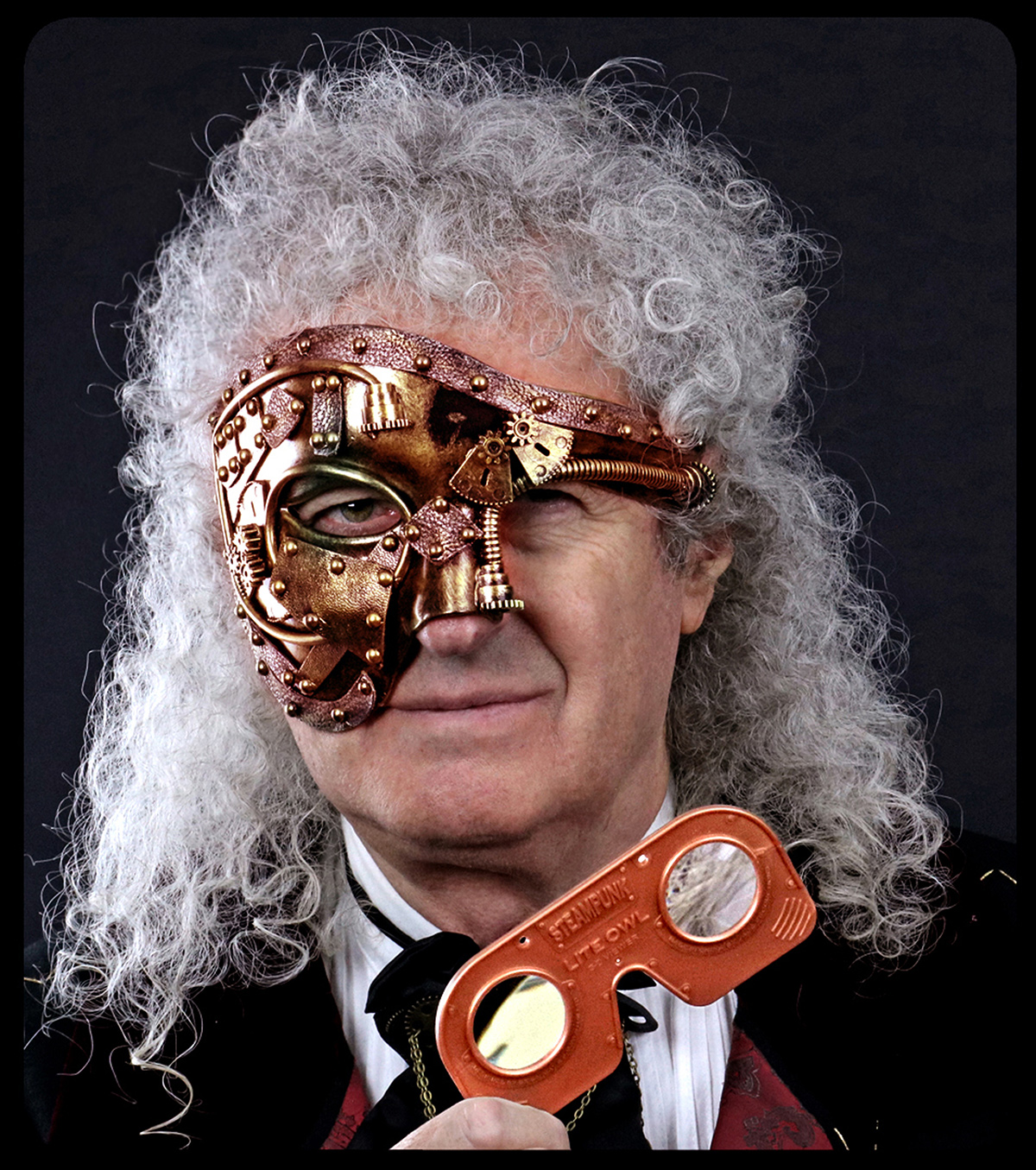 May has until now kept very quiet about this new viewer, which has been in development for nearly a year. It was designed to fulfil a perceived need for a quality viewing device for side-by side stereo pictures compact and light enough to be always carried around in a pocket or worn around the neck with a cord. The existing LITE OWL was designed for viewing stereos in books, and has also been used as a travel stereoscope, but its one-piece construction in Acrylic material made it too brittle to survive in some trouser pockets ! This new device is rugged, moulded in metallic-effect Polypropylene with acrylic lens inserts. Geometrically it is closer to the classic OWL design, with a slightly longer focal length than the LITE OWL, making 3-D viewing for many people just a little easier.
Why SteamPunk ?
Brian says "The style of the viewer was inspired by the current Steampunk genre - a fanciful combination of Victorian style and pre-combustion engine technology. Steampunk has been described as how the World would have looked if the Victorians had managed to get into Space, as Jules Verne and H.G. Wells dreamed. Stereoscopy – now known as 3-D – was invented in 1832 by Englishman Charles Wheatstone, and this new instrument, firmly based on the genius of his designs, seemed a perfect opportunity to incorporate steampunk motifs into its appearance. The design also owes a lot to my old friend Chris Dodman at S.B. Westons in Sunbury-upon-Thames, who collaborated on the design of the very first 'Classic' folding focussing OWL in 2009. It's manufactured by my friends in China, Jade Productions, who have also printed our most recent LSC books. The first limited edition Steampunk OWLs arrived today - a introductory limited edition in a special themed cardboard packet. They will be flying out very soon !!!"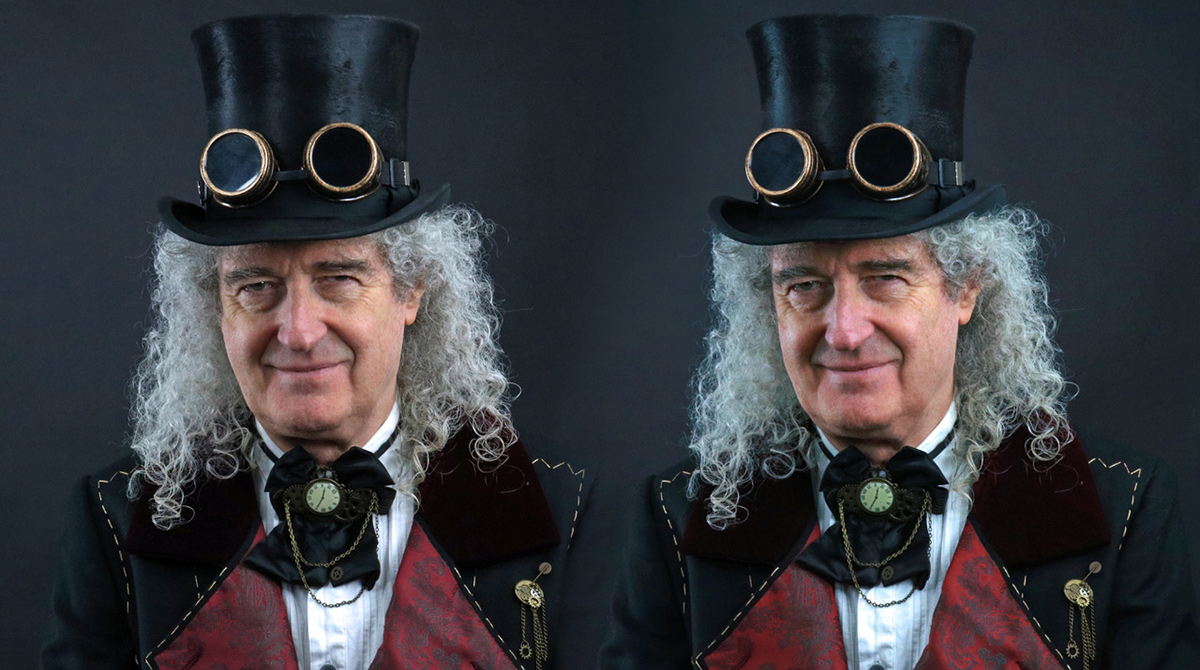 Brian's London Stereoscopic Company currently presents stereoscopic images (as stereo cards and illustrations in books) using the highest resolution printing technology available today, and viewed through this new device, these visuals are guaranteed to spring to life in glorious 3-D, just as in Victorian times. The Steampunk OWL can also be used to view 3-D videos and VR content on any smartphone.
The LSC's mission is to inspire a new generation to embrace stereoscopy, by sharing the world's greatest 3-D images – from Victorian times to the present day. The cutting-edge Steampunk OWL will be a welcome addition to the line.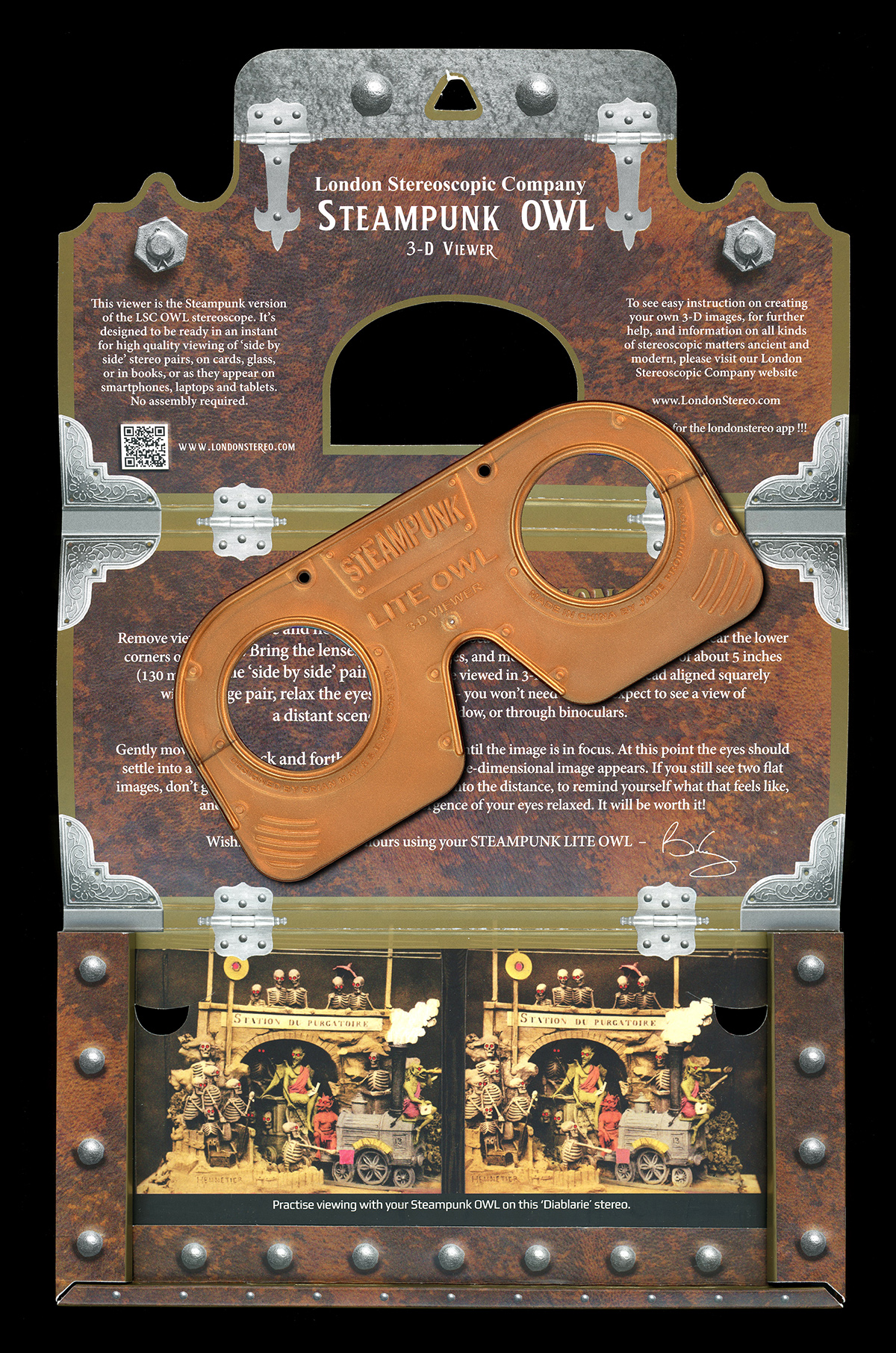 ORDER HERE
Wednesday, 21 October 2020 | Admin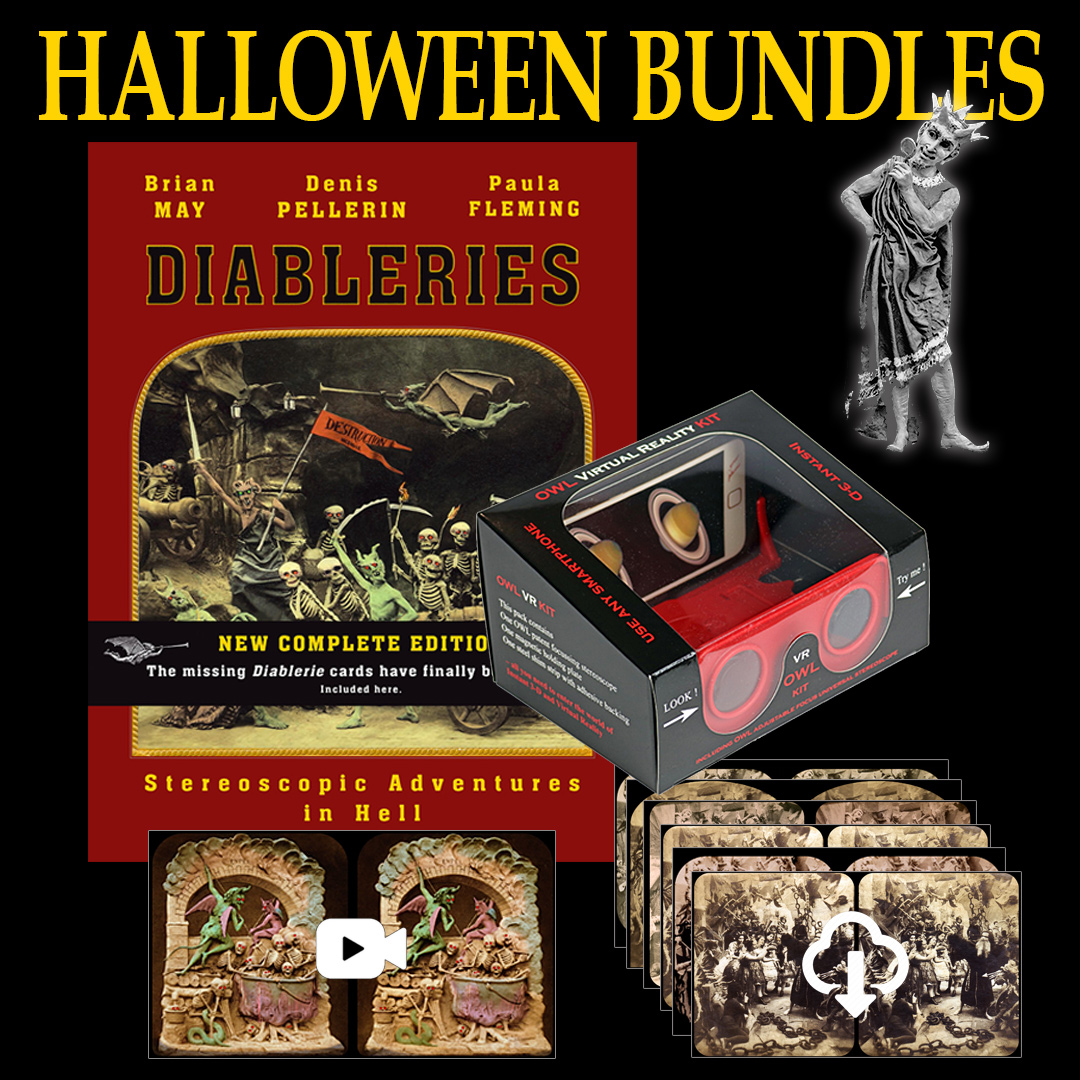 THIS HALLOWEEN THE DIABLERIES ARE BACK
FOR BUNDLES OF DEVILRY
Wednesday, 23 September 2020 | Admin
Brian calls out for you all to join him TONIGHT at the launch of "the worlds first book on nebulae illustrated in 3-D" where you will be taken on a fantastic journey,​ spanning the birth, death and recycling of stars.
Hosted by
The Science Museum at 8pm LIVE on YouTube
The book is officially available to buy HERE
@Science Museum
@londonstereo
Wednesday, 23 September 2020 | Admin
The world's first ever online global book launch of its kind!
The Bookseller

Have you set your reminder on YouTube to join Brian and his co-creators, David Eicher and J.P Metsavainio, for a live virtual journey spanning the birth, death and recycling of stars?

> Youtube Link
See you there, tomorrow (Wed 23rd, 8pm UK time) !


Wherever you are in the world, The London Stereoscopic Company invite you to the virtual launch of COSMIC CLOUDS 3-D, hosted by The Science Museum, starring BRIAN MAY along with co-creators DAVID EICHER and J-P METSAVAINIO.
When? 23 September
Where? Your home (Science Museum's YouTube)
This will be the world's first ever online global book launch of its kind.
Click Here on the link for full details on how to join what will be a fascinating discussion and mesmerising visual journey spanning the birth, death and recycling of stars, brought to your living room!
Twitter: @sciencemuseum @londonstereo
Facebook: @sciencemuseumlondon @londonstereo
Instagram: @sciencemuseum @londonstereoscopiccompany @brianmayforreal @eicher.david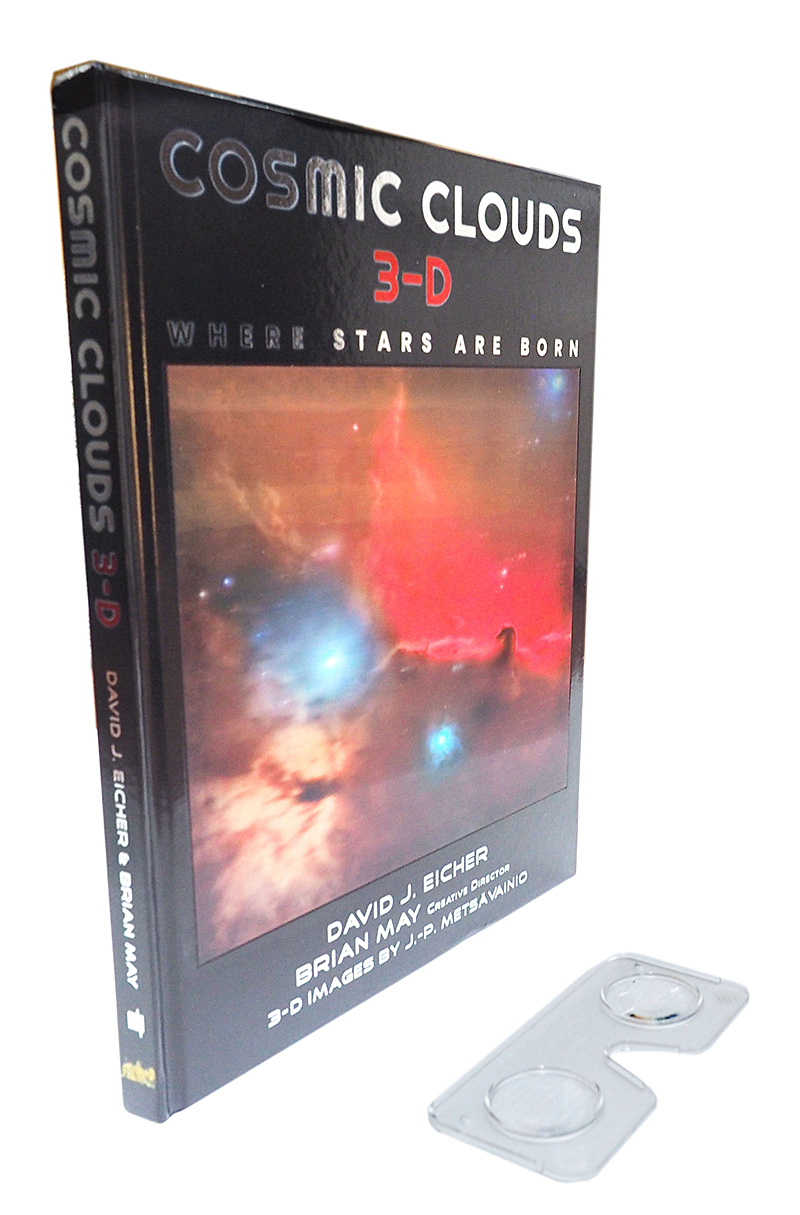 Saturday, 12 September 2020 | Admin
London Stereoscopic Company launch astronomy bundles so you can complete your LSC astro collection.... including the highly anticipated Cosmic Clouds 3-D together with the critically acclaimed Mission Moon 3-D for just £45!


Tuesday, 25 August 2020 | Admin
The highly anticipated, first ever 3-D book on nebulae - Cosmic Clouds - has been postponed until 23rd September 2020. We promise it will be worth the wait!
In the meantime, let's keep on sharing inspiring stereoscopic images from all over the world #londonstereovibes
Keep well wherever you are.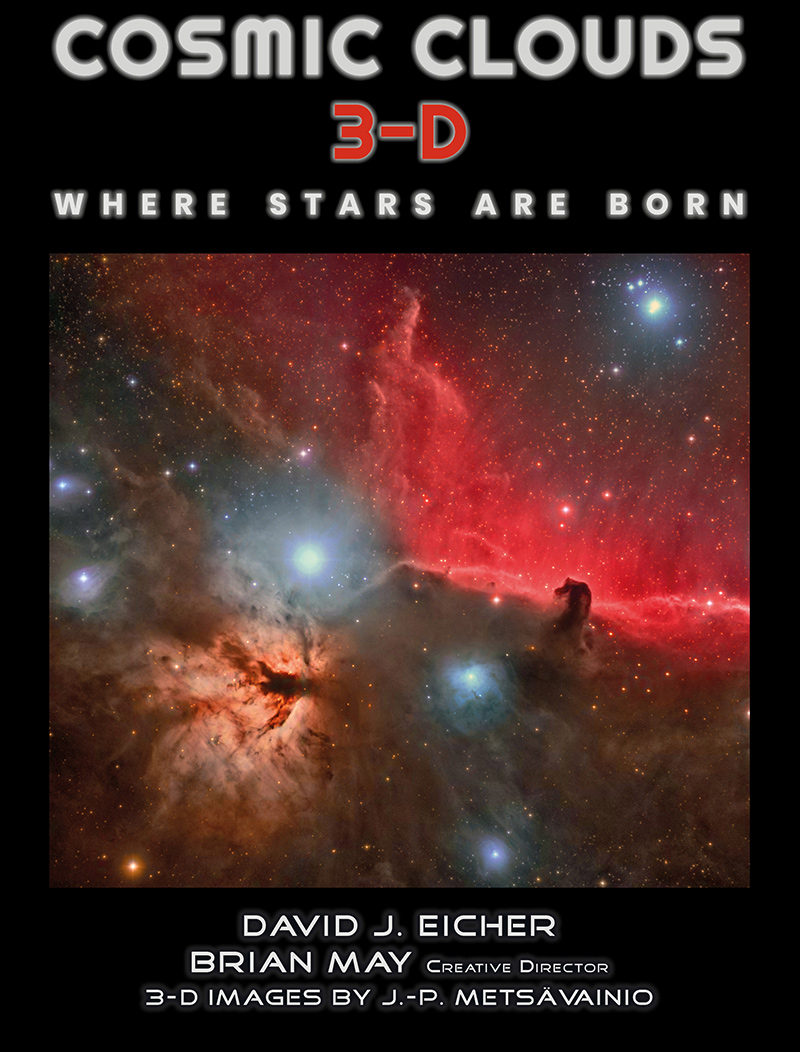 Friday, 22 May 2020 | Admin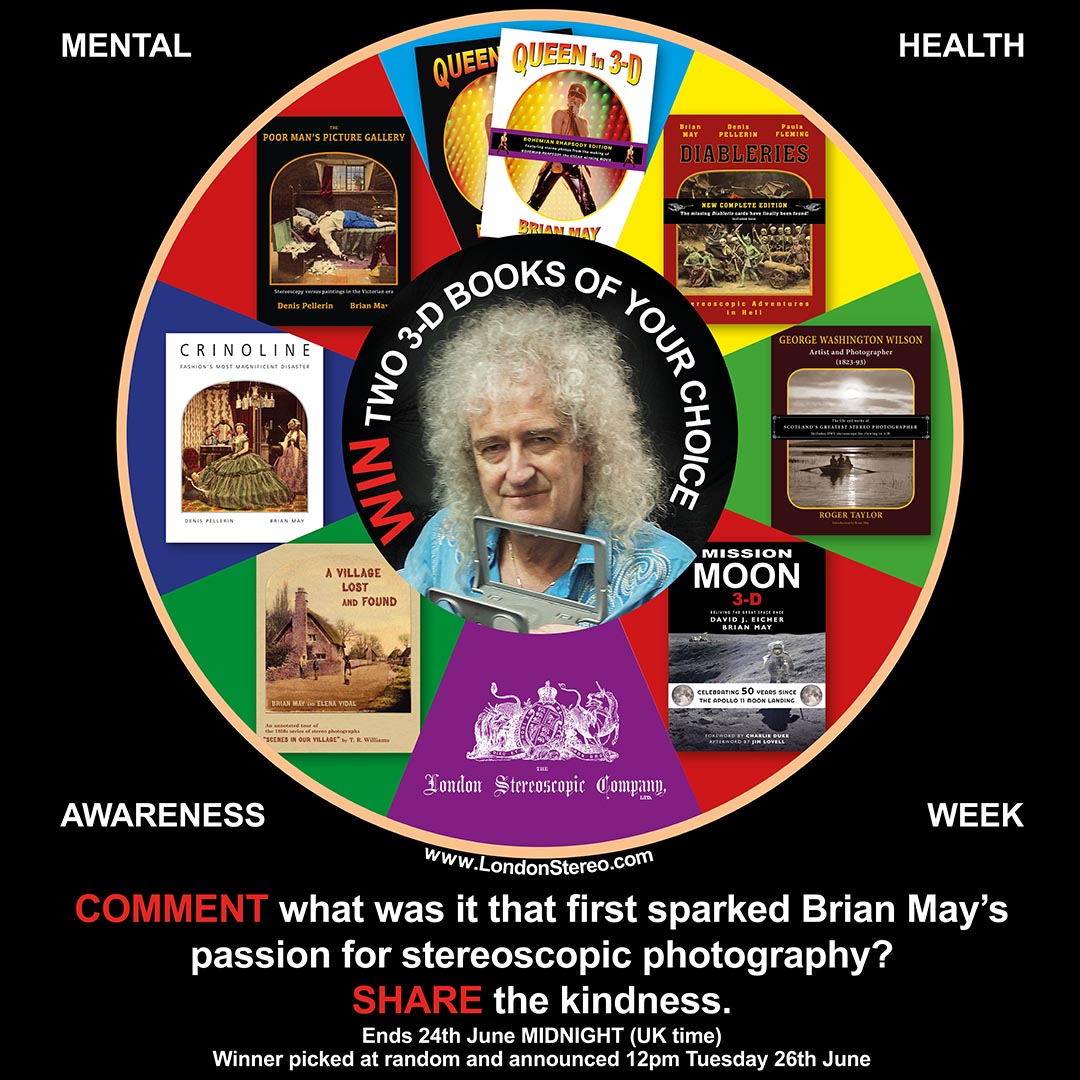 This year's Mental Health Awareness Week is all about kindness in this uncertain time and Brian's London Stereoscopic Company's kind act is to offer you the chance to
WIN two 3-D books of your choice!
Just head to the competition post on the @londonstereo Facebook page and
COMMENT what was it that first sparked Brian May's passion for stereoscopic photography?
And SHARE the kindness
Happy Friday!