10 November 2022 | Admin
The LSC's Sara Bricusse, proudly showing off the first ever London Stereoscopic Company shop - at the fabulous Proud Galleries in central London - stocked with Stereoscopy Is Good For You: Life In 3-D and all the treasures we ever created....
Come on down to complete your collection and start your Christmas shopping!
AND of course catch the magical exhibition​ www.proudgalleries.com
#stereoscopyisgoodforyou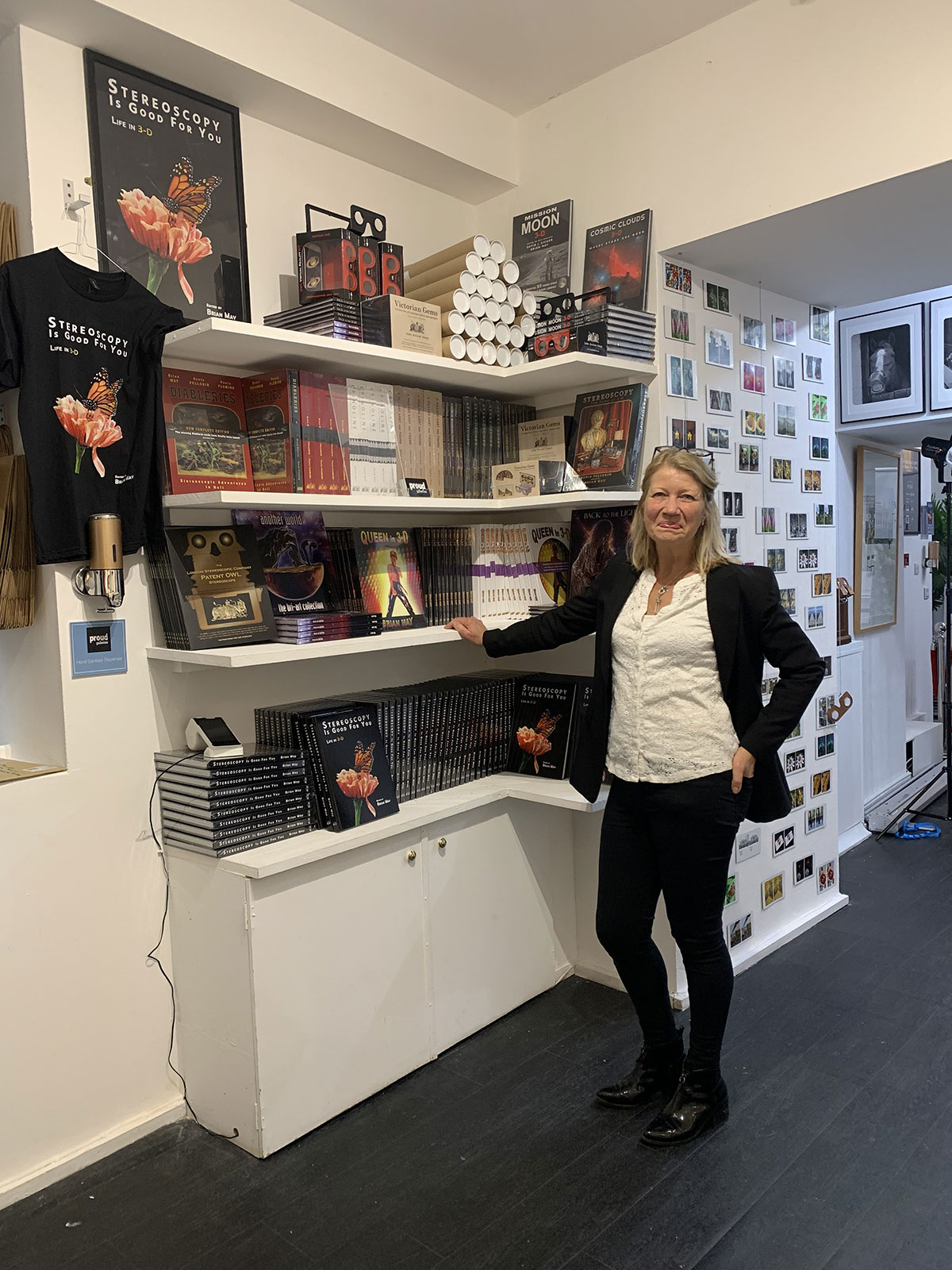 27 October 2022 | Admin
To celebrate the launch of the LSC's highly anticipated book and exhibition at Proud Galleries - Stereoscopy Is Good For You: Life In 3-D - Bri-Day returns! Brian will be taking you behind the scenes all day live from his Instagram feed @brianmayforreal

Brian says -

"Yes ! Foolishly, perhaps, I will be doing that Bri-Day thing one more time this coming Tuesday. My day will start pretty early - I need to be on the road about 5.30 am - so I might just start transmitting then, if Incan remember how ! Hoping to share my launch day with you decent folks - interviews, TV, Radio, Press, some one-to-ones, I hope … and live conversations in the Proud galleries where our launch takes place. And the launch event proper in the evening - at which I will hopefully be still standing and able to speak to the assembled guests and glitterati. Join us !! STEREOSCOPY IS GOOD FOR YOU !!!! Thanks Flory for this great picture - sorry you can't join is on the day, but you will definitely be with us on the day, even though your corporeal self is in Paraguay ! Bri"

You can order the book now - out on 1 November

And book tickets to the exhibition www.proudgalleries.com - opens 3 November - 25 March 2023

#stereoscopyisgoodforyou

@brianmayforreal @londonstereo @proudgalleries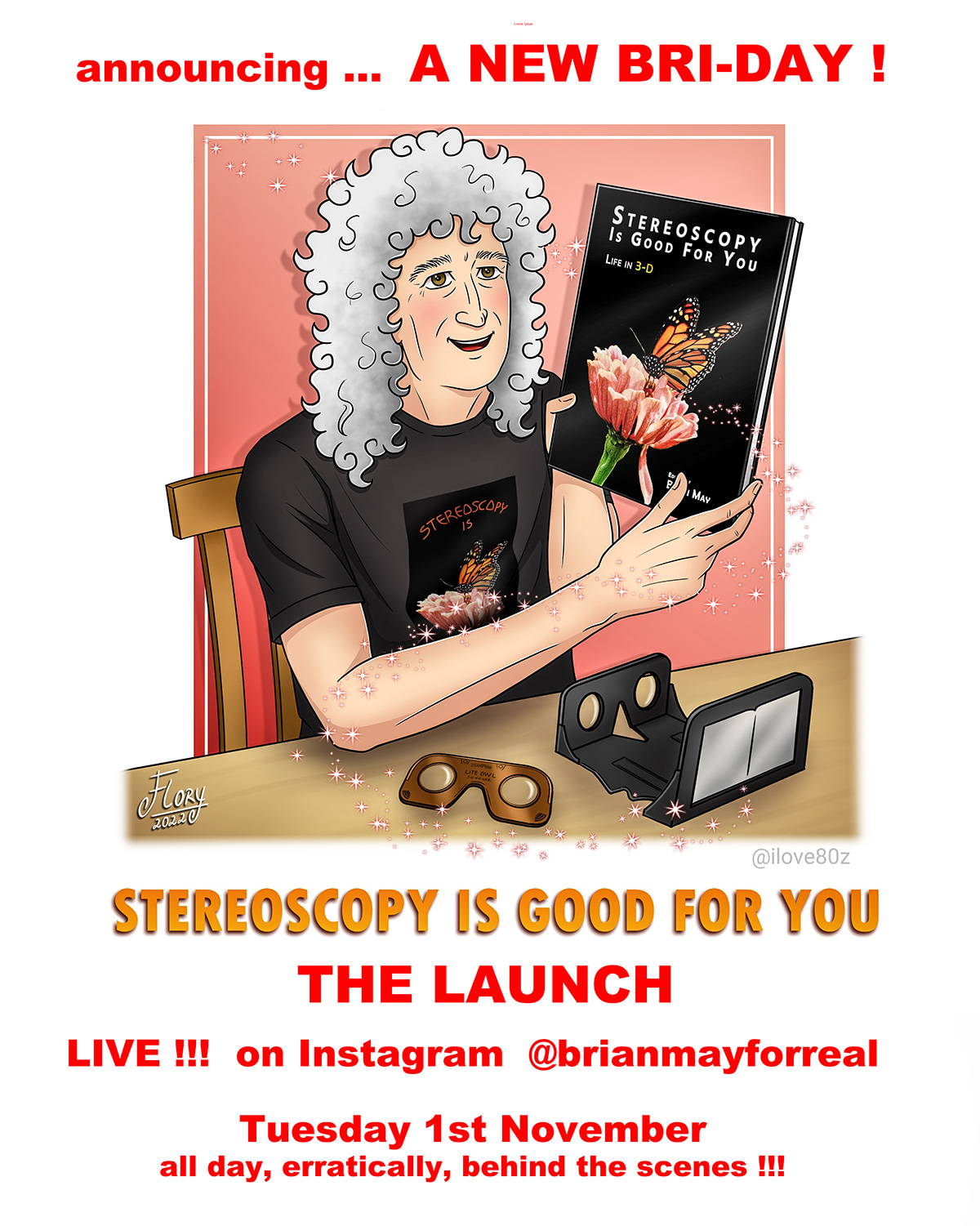 4 October 2022 | Admin
As part of the promotion for Brian's forthcoming book Stereoscopy Is Good For You: Life in 3-D, a leading London photography gallery shall run a five month exhibition, showcasing some of the captivating imagery.
​Proud Galleries in collaboration with Brian May's London Stereoscopic Company present STEREOSCOPY IS GOOD FOR YOU: LIFE IN 3-D
A wondrous immersive exhibition celebrating the magic of stereoscopic 3-D photography in the 21st Century
3 November 2022 to Saturday 25 March 2023​
This show exhibits new 3-D photography from the LSC's latest publication "Stereoscopy Is Good For You: Life in 3-D". But the presentation also includes a dazzling array of historical images communicating the excitement of Stereoscopy in Victorian times, and a selection of Brian May's own stereoscopic work depicting QUEEN from the inside, as well as his own history in stereoscopy.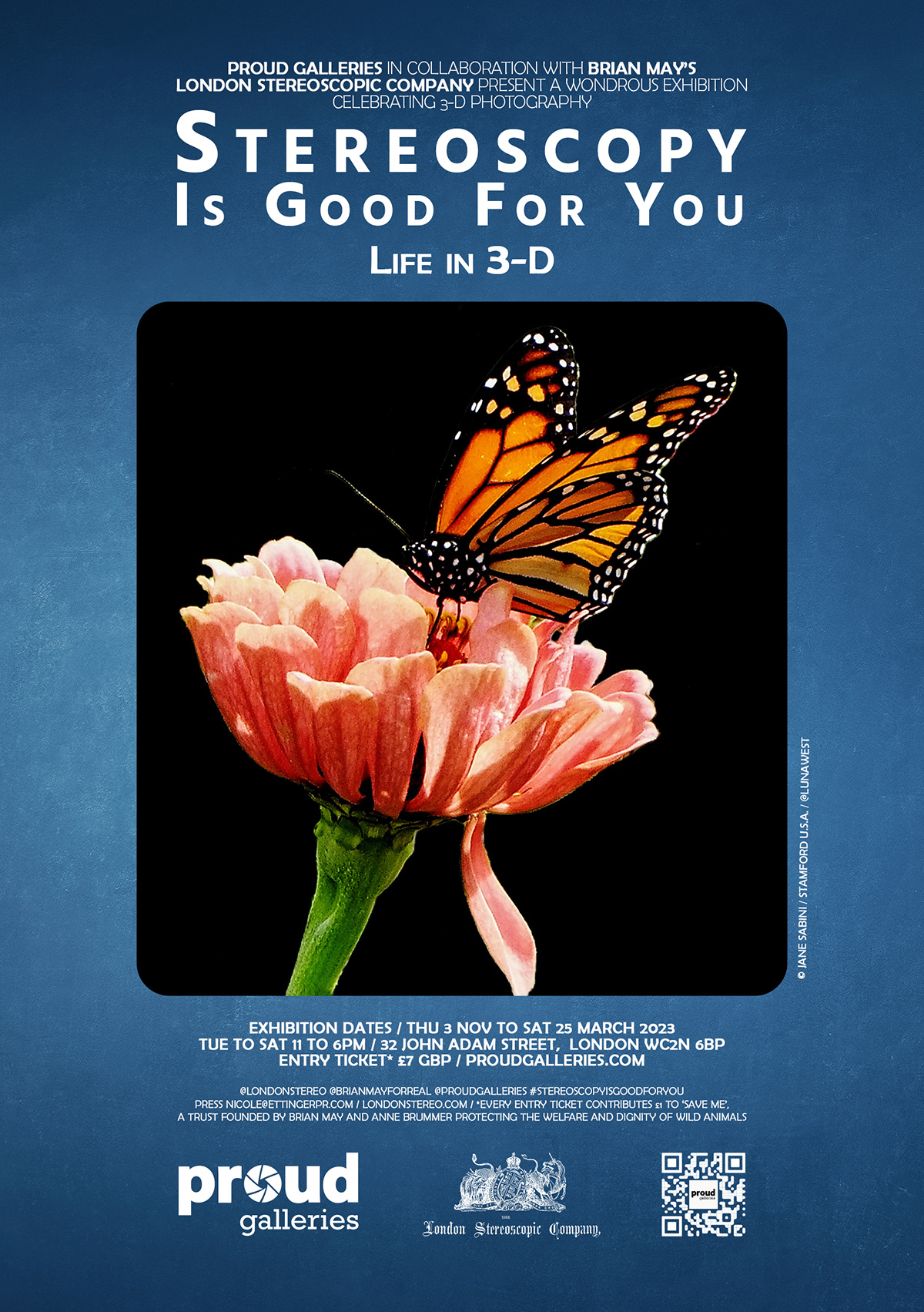 Brian May says:
"I'm thrilled that London's prestigious PROUD gallery will be hosting our exhibition for a massive FIVE MONTHS. The stars seem to be aligning —- this is IT ! "Stereoscopy Is Good For You" will put 3-D firmly on the map in 2022 !"
At the centre of the exhibition is a project two years in the making, the work of over a hundred modern stereo photographers sharing aspects of life that lifted their spirits during the Covid period. Through his personal Instagram and the LSC's social media platforms, Brian invited stereoscopists everywhere to capture and share images of living under lockdown and beyond. The response was overwhelming, and as Covid continued to take its toll on the world, the fast-growing stereo community kept on snapping away, spreading beauty and hope through the uniquely powerful 3-D photographic medium. This exhibit is a monument to that response.
​​ Visitors will view the visuals in the splendour of 3-D through the stereoscopic OWL viewer designed by Brian May himself.
May continues:
"Working on this project, I learned all over again that the photographs we take say a lot more about US than the subject we capture. Viewing the stereoscopic work of others, we find ourselves completely transported to the place and time when their picture was taken.
Here you will see an amazing breadth of invention. Some people took their smartphones into their garden if they were lucky enough to have one, capturing flowers, plants and garden creatures. Some snapped the newly appreciated beauty of their immediate surrounding landscapes on permitted walks. Some, stuck indoors, ingeniously created whole scenes from toys and models. And some even turned their cameras to the sky. Some worked purely virtually on their laptops, creating imaginary landscapes. And, as the Covid restrictions eventually began to relax, the new stereographers ventured back out and reclaimed the world! You will see it all here."
The exhibition also comprises stunning artwork from past LSC projects, as well as rare behind-the-scenes images depicting the legendary rock band Queen, captured by stereoscopic photographer, astrophysicist, rockstar and animal activist, Brian May himself and first presented in his book, Queen in 3-D, which provides close-up glimpses of the band as never before seen. This is a unique display, inviting visitors to delve into the magic of stereoscopy from the Victorian era to the present, culminating with a captivating display of images from the modern day stereo community.
Come and be transported !!!

Exhibition Dates / Thursday 3 November 2022 to Saturday 25 March 2023
Exhibition Venue / Proud Galleries / 32 John Adam Street, London WC2N 6BP
Opening Times / Tuesday to Saturday 11 a.m. to 6 p.m.
Press Enquiries / nicole@ettingerpr.com
Social Media / @londonstereo, @brianmayforreal, @proudgalleries, #stereoscopyisgoodforyou
About Proud Galleries London / www.proudgalleries.com
About The London Stereoscopic Company / www.londonstereo.com
Entry Tickets* / £7 GBP
*Every entry ticket purchased contributes £1 to the The Save Me Trust, founded by Brian May and Anne Brummer to protect the welfare and dignity of wild animals.
Stereoscopy Is Good For you: Life in 3-D, published by The London Stereoscopic Company, Edited by Brian May, 1 November 2022, £30, available to PRE-ORDER NOW
15 December 2021 | Admin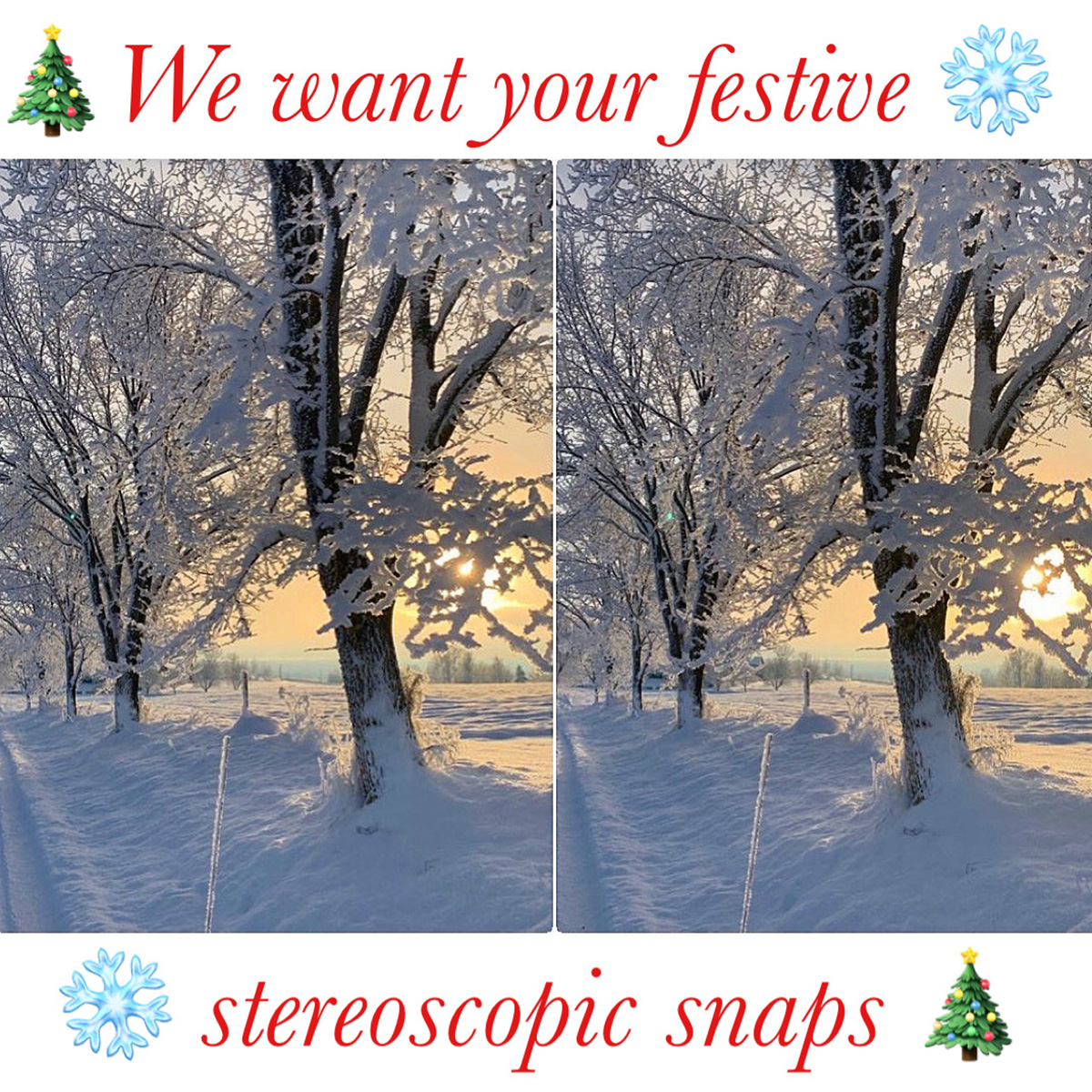 Exciting News

At the start of the pandemic we invited you to send in stereoscopic photos of subjects that brought you joy during a challenging time on Earth.
We were amazed by the standard of images we received from all over the world, capturing beauty in many different forms.
So we have decided to compile a book of some of the wonderful imagery, that will be published next Spring .... And here we offer one more chance to be a part of this uplifting project by inviting you to capture joyful moments during the festive month.
Please submit your work to nicole@londonstereo.com from now until 2nd January 2022. Happy snapping!

(Photo by Elisabeth Frydenlund, Norway)
1 December 2021 | Admin
As we find ourselves in the month of Christmas, Brian's London Stereoscopic Company begin their 12 DAY CHRISTMAS GIFT IDEAS....

ONE -

Watch the video to find out why the new paperback edition of Brian May's bestseller Queen in 3-D makes for the ultimate Christmas gift! And you can order it here
10 November 2021 | Admin
To mark the great occasion the GUARDIAN has dedicated P3 of today's paper to the title that Brian sees as the LSC's most important to date.
"This week, May publishes a book devoted to the history of his passion. Stereoscopy: the Dawn of 3D, written by the art historian Denis Pellerin, contains images from May's collection of about 100,000 photographs – including two previously unseen images of Charles Dickens – and comes with its own foldable viewer."
And if you want to celebrate with Brian and Denis there's still time to join the live virtual launch at 7.30pm this evening - just click on the link and book your ticket
See you there!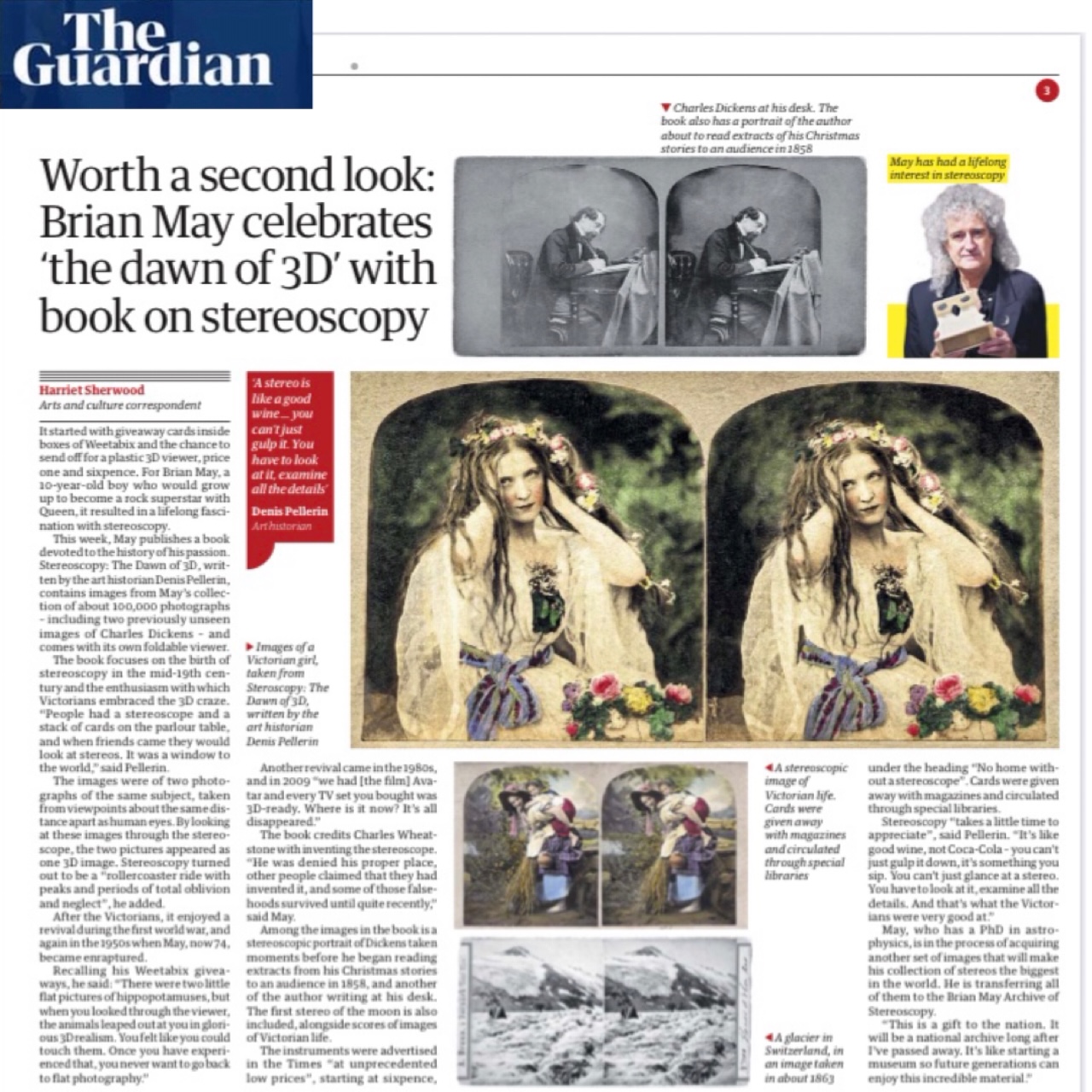 19 August 2021 | Admin
SAVE THE DATE:
On Wednesday 10th November, from 19:30 ​- 20:45, Brian May and Denis Pellerin invite you to the live virtual launch of a very special publication - STEREOSCOPY: THE DAWN OF 3-D - one that Brian refers to as "the most important book we have ever produced."
The London Stereoscopic Company has teamed up with @britishlibrary and King's College to broadcast the event direct to your homes which can be enjoyed in fantastic 3-D if you have one of Brian's Owl stereoscopic viewers. And if you don't, then you can either order the new book hot off the press (which comes with one) to accompany your ticket to the live show, or get yourself a Lite Owl using a special discount code [provided by the British Library].

Hit the link below to book your tickets and for more detail on the captivating journey through the history of stereoscopy that the duo will take you on - READ MORE

Look forward to seeing you there, wherever you may be in the world!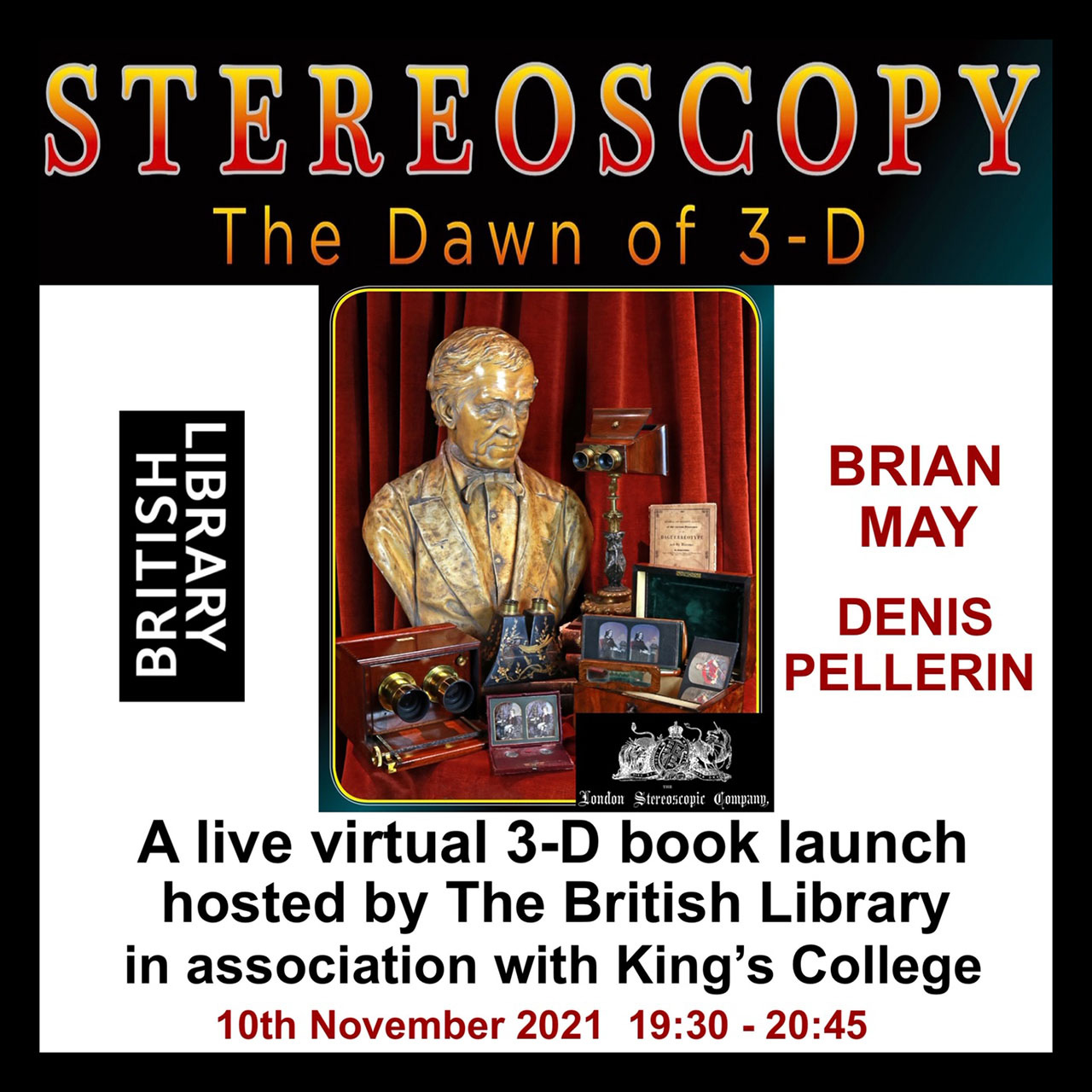 17 June 2021 | Admin
Brian May has launched a Queen in 3-D competition that he'd like you to enter
24 May 2021 | Admin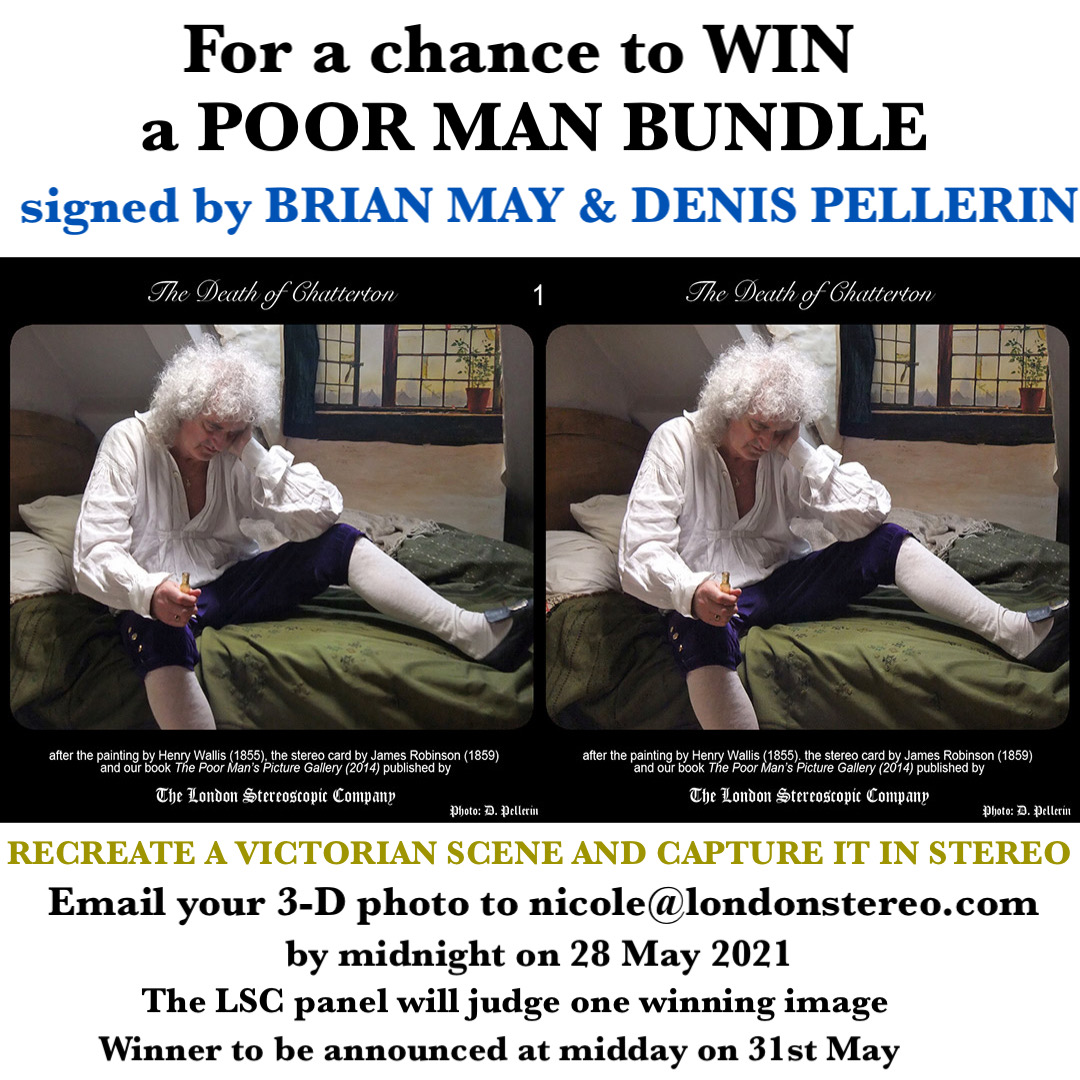 It's one that will present you with an almighty challenge this weekend - to venture back in time to the era of the Victorians!

The prize includes:
A copy of the lavish The Poor Man's Picture Gallery
A bookplate with Brian May and Denis Pellerin's signature
A pack of stereoscopic cards
AND six very special digital images of Brian re-enacting the tragic fate of Chatterton

View the treasure of a prize here
https://shop.londonstereo.com/poor-mans-picture-gallery-stereo-cards-bundle.html

To take part:
See instructions on the visual.

And if you don't already have one, you will need to download a free stereoscopic camera app, such as 3D Photo for iPhone or 3DSteroid for Android.... then get snapping!

SHARE the mission #keepcreative

Good luck!
21 May 2021 | Admin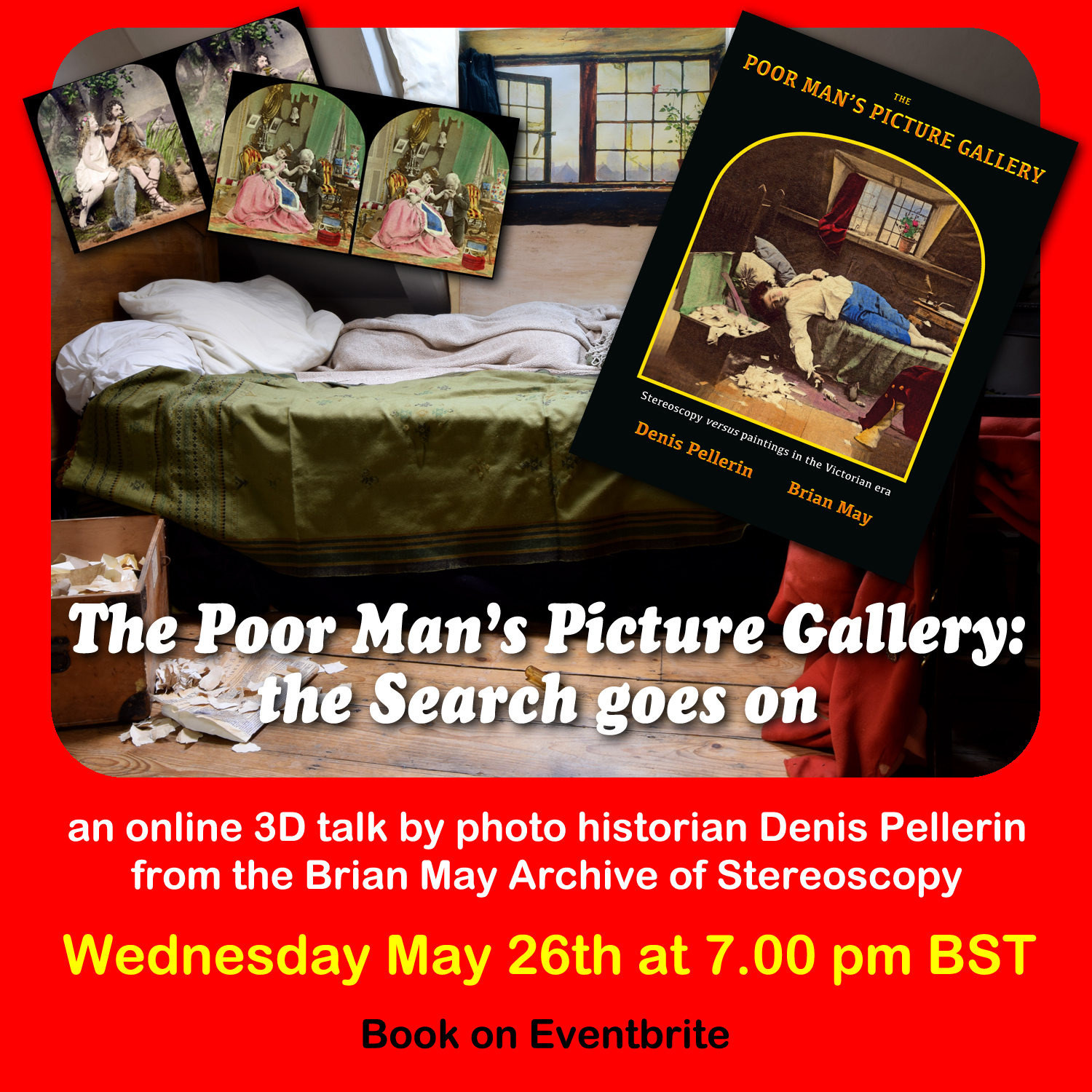 Brian May's The London Stereoscopic Company invites the world to a FREE 3D online talk;
THE POOR MAN'S PICTURE GALLERY – THE SEARCH GOES ON
with author Denis Pellerin
Wednesday 26th May at 7pm BST
To celebrate the LSC's "Book of the month" promotion, photo historian Denis Pellerin, from the Brian May Archive of Stereoscopy, will take you on a stereoscopic journey back to the Victorian era to explore critically acclaimed book, "The Poor Man's Picture."
If you don't already have a copy of the book, check out the special bundles at the LSC store which include Brian May's signature along with Denis'. The book also comes with an Owl stereoscopic viewer that will enable you to experience the ​talk in the magic of 3-D
https://shop.londonstereo.com/book-of-the-month-bundles.html
In his presentation, Denis will examine the reasons that prompted the publication of the book in the first place and how all the original connections that are made in it between high art, popular art and stereoscopic photography, make it a unique volume that goes far beyond a simple survey of some of the best-selling Victorian stereo cards.
Although the book was released some years ago, the search for more connections still goes on and the speaker will disclose some of the latest avenues he has explored and the numerous new links between paintings and stereoviews he has discovered, and written about, since.
The images will be displayed side-by-side for parallel viewing. You can watch the whole presentation in 2D but if you want the 3D experience you will need a viewer and the LSC are running a special offer of 50% off the Owl VR kit
https://shop.londonstereo.com/VRKIT.html
The talk is free but booking through Eventbrite is mandatory.
IMPORTANT:
The Zoom link will be sent to all the booked participants on Tuesday May 25that 1.00 pm.
If you haven't received it by the evening of the 25th, please contact Denis Pellerin at denis@londonstereo.com, BEFORE the talk starts.