The OWL Virtual Reality Kit
24 October 2016 | LSCAdmin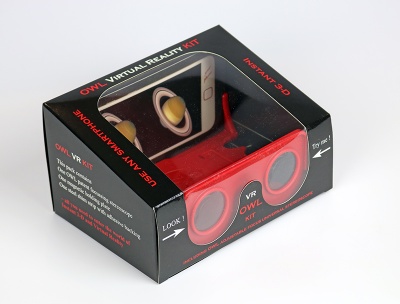 The new OWL Virtual Reality Kit takes the existing OWL Stereo Viewer and, through use of a simple but ingenious adaptor, enables its use with a smart phone not only to view online 3-D images, but also those taken by the user, and commercially available VR content.
Manufactured from high-grade polypropylene, and fully collapsible to a thin flat configuration, the OWL is supplied ready for use in seconds. Its carefully positioned high-quality optical lenses, plus fully adjustable focus, present every user with the ideal optical geometry for perfect viewing of side-by-side 3-D images.
Working with any smart phone, the OWL Virtual Reality Kit has a significant advantage over most other VR devices, which are usually tied to just one particular make
or model of phone.