THE POOR MAN'S PICTURE GALLERY – THE SEARCH GOES ON
21 May 2021 | LSCAdmin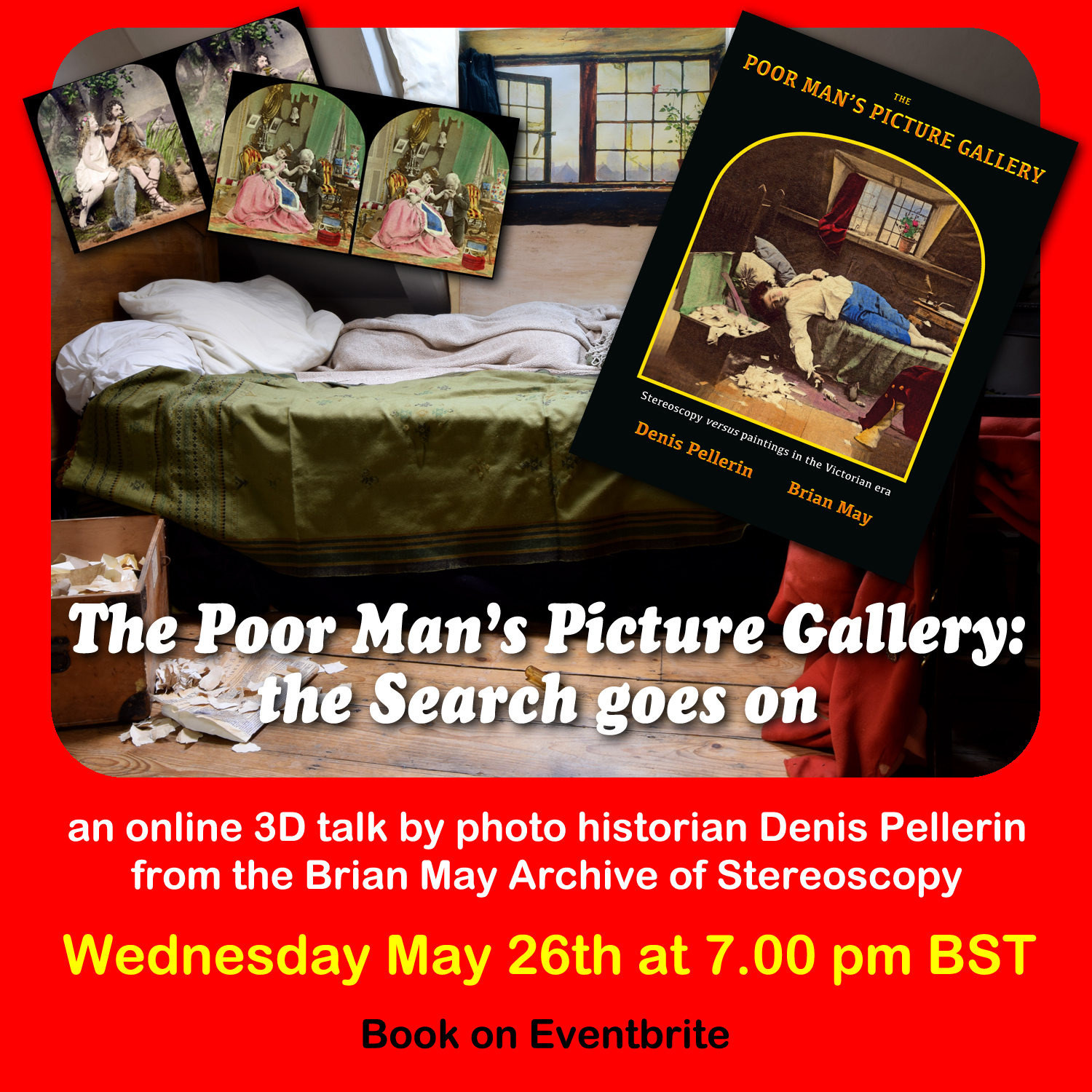 Brian May's The London Stereoscopic Company invites the world to a FREE 3D online talk;
THE POOR MAN'S PICTURE GALLERY – THE SEARCH GOES ON
with author Denis Pellerin
Wednesday 26th May at 7pm BST
To celebrate the LSC's "Book of the month" promotion, photo historian Denis Pellerin, from the Brian May Archive of Stereoscopy, will take you on a stereoscopic journey back to the Victorian era to explore critically acclaimed book, "The Poor Man's Picture."
If you don't already have a copy of the book, check out the special bundles at the LSC store which include Brian May's signature along with Denis'. The book also comes with an Owl stereoscopic viewer that will enable you to experience the ​talk in the magic of 3-D
https://shop.londonstereo.com/book-of-the-month-bundles.html
In his presentation, Denis will examine the reasons that prompted the publication of the book in the first place and how all the original connections that are made in it between high art, popular art and stereoscopic photography, make it a unique volume that goes far beyond a simple survey of some of the best-selling Victorian stereo cards.
Although the book was released some years ago, the search for more connections still goes on and the speaker will disclose some of the latest avenues he has explored and the numerous new links between paintings and stereoviews he has discovered, and written about, since.
The images will be displayed side-by-side for parallel viewing. You can watch the whole presentation in 2D but if you want the 3D experience you will need a viewer and the LSC are running a special offer of 50% off the Owl VR kit
https://shop.londonstereo.com/VRKIT.html
The talk is free but booking through Eventbrite is mandatory.
IMPORTANT:
The Zoom link will be sent to all the booked participants on Tuesday May 25that 1.00 pm.
If you haven't received it by the evening of the 25th, please contact Denis Pellerin at denis@londonstereo.com, BEFORE the talk starts.